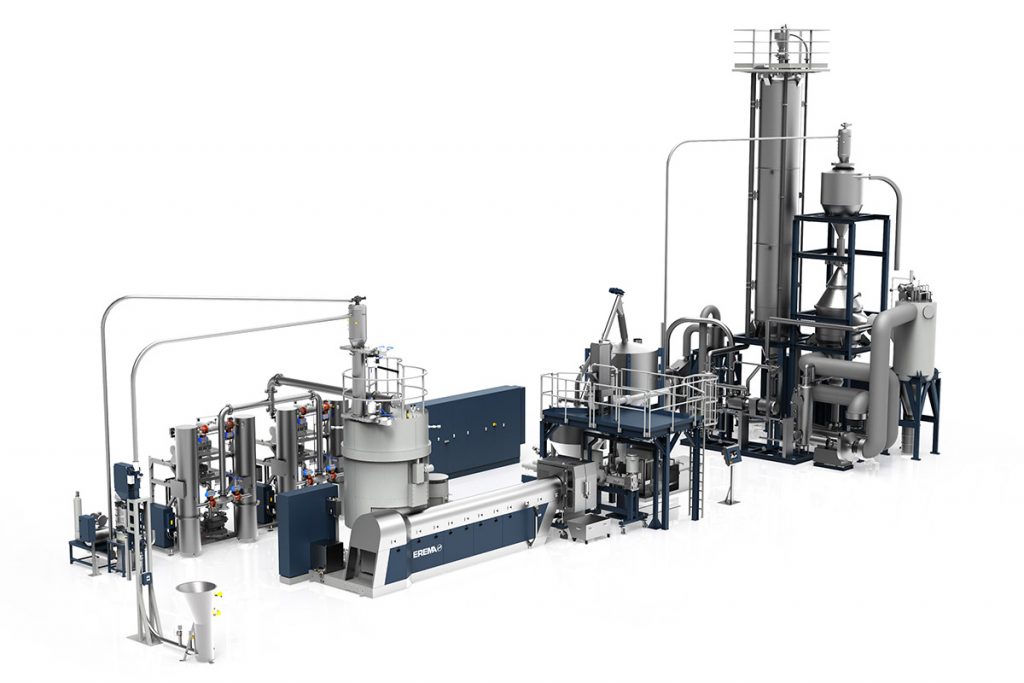 A new PET recycling system combines decontamination approaches from two different European equipment providers.
Austria-based Erema and and Switzerland-headquartered Polymetrix have collaborated to create the Vacunite system, which produces decontaminated RPET pellets for food-contact applications, according to Erema.
The system is based on Erema's Vacurema recycling equipment, which decontaminates PET flakes using high temperature and a vacuum. Specifically, washed flakes are fed into crystallization dryers, followed by a vacuum reactor, where the intrinsic viscosity of the plastic is boosted to the desired level via solid-phase polycondensation. The material is then melted under vacuum before a single-screw extruder pushes the melt to filters with a 32- or 64-micrometer fineness.
The new Vacunite system, which was unveiled at a PET technology conference in Paris in November, is a modified version of the Vacurema. It includes a newly patented vacuum-supported nitrogen solid-state polycondensation technology from Polymetrix.
According to an Erema press release, what makes the combination so special is that all thermal process steps take place in a nitrogen atmosphere.
"The result is RPET pellets which are unique in quality and far exceed all food-contact requirements," the release stated.
The nitrogen atmosphere largely eliminates flake and pellet discoloration and removes additives that could lead to undesired reactions in the melt, according to the press release. The system also purifies the nitrogen so it can be recirculated in the equipment.
To receive the latest news and analysis about plastics recycling technologies, sign up now for our free monthly Plastics Recycling Update: Technology Edition e-newsletter.
Photo courtesy of Erema.
More stories about technology