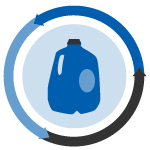 A compounder moves further into the recycled-content space, a recycling machine is literally taken into space and a magazine piece explores black plastic recycling challenges.
Recyclable pouch films: A couple of packaging makers have released recyclable alternatives to difficult-to-recycle multi-layer, multi-material films. Constantia Flexibles released a new all-PE laminated film line called "Ecolutions," according to Plastics News. Meanwhile, Flair Flexible Packaging has introduced its own line of recyclable multi-layer pouches called ENVi. All the products are designed to be recycled via retail PE film drop-offs.
Compounder moves: German compounder and resin distributor Albis Plastic moved further in the recycled plastics business with the recent purchase of compounder Wipag Deutschland. Plastics News reports Wipag recycles carbon fiber, mainly from the auto industry, into carbon fiber reinforced plastic compounds. Additionally, Albis is also now buying recycled PE and PP plastics from Quality Circular Polymers, a joint venture between virgin plastics maker LyondellBasell and waste management company Suez. Lastly, Albis unveiled a recycled-content PET/polybutylene terephthalate (PBT) blend that can be modified with fillers and additives and represents an alternative to prime PBT and nylon 6 compounds.
Orbital recycling: Combined 3D printers and recycling machines have been around for a while, so they're not necessarily out of this world. Well, one unit is. CNN reports a Refabricator has been installed on the International Space Station. Giving astronauts the ability to recycle old plastic parts into new 3D printer filament for production of new parts will reduce the need to launch large supplies of parts for repairs and maintenance, according to NASA.  
Microwave depolymerization: With its microwave-assisted PET depolymerization technology, Swiss company gr3n is being considered for the European Commission's Innovation Radar Prize 2018 in the category of "Tech for Society," according to Euronews.com. A year ago, Plastics Recycling Update wrote about the technology, which can be used to recover PET monomers from difficult-to-handle streams such as colored PET and textiles.
Black plastic challenges: The latest edition of Scrap Magazine includes a look at the sorting and market challenges – as well as some solutions – that come with recycling black plastics. The piece explores how equipment manufacturers in recent years have developed optical sorters that can detect and sort black plastics, but it notes they have yet to prove themselves throughout the marketplace. It also looks at major reclaimers handling black plastics, as well as suitable end markets where black is in strong demand.
PET to fiber process: Plastics Technology took a look at the equipment Unifi relies on to recycle post-consumer PET bottles into valuable fiber for textiles. Unifi owns the Repreve brand of recycled polyester fiber. The article covers not only the sorting, washing and extrusion systems at the recycling plant, but it also explores the downstream equipment needed to convert PET "chips" into dyed partially oriented yarns for sale to customers.
To receive the latest news and analysis about plastics recycling technologies, sign up now for our free monthly Plastics Recycling Update: Technology Edition e-newsletter.