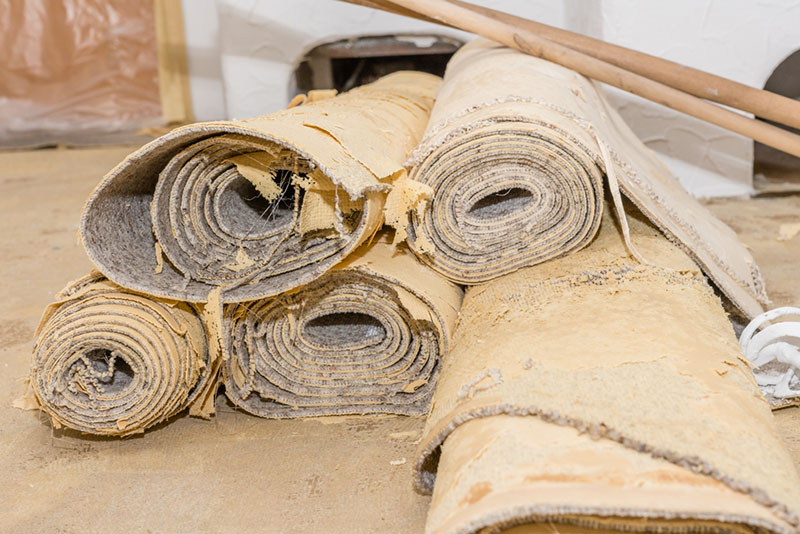 A facility in California is using a unique rotary impact separation technology to break carpet into its components so plastics and calcium carbonate can be efficiently recovered.
Circular Polymers has installed new technology and tripled output at its Lincoln, Calif. recycling plant. The facility, which the state of California helped to finance, is capable of processing 30 million pounds per year. Plans for adding more capacity are in the works.
The company is currently recovering PET, PP, nylon 6, nylon 6,6 and calcium carbonate from different types of carpet.
"This is the first plant to do all carpet types, and we're hoping to have tremendous expansion both inside and outside California," said David Bender, CEO of Circular Polymers and a veteran of the plastics recycling industry.
Separation advantage
A textile product made for longevity, carpet is made of face fiber (the upper part your feet touch) and a backing. The face fiber, which can be either tufted or woven, is made from PET, PP, nylon 6 or nylon 6,6. It makes up 40 to 45 percent of the carpet's weight. The backing is made of a plastic (often PP) and calcium carbonate.
Bender said separating plastics in post-consumer carpet usually involves shearing or using a hammer mill. Shearing, or cutting the face fibers off the carpet as one would shear a sheep, results in a high-quality plastic stream but poor yields, he said. Hammer mills generate good yields but need a lot of power to operate, he said. The economics are challenging in both cases.
Circular Polymers' Sacramento, Calif.-area site is unique for its use of a rotary impact separator to efficiently separate shredded post-consumer carpet into the face fiber, backing and calcium carbonate. The equipment, which Circular Polymers has the exclusive North American rights to use, generates high yields of clean plastics at lower cost, Bender said. Circular Polymers can generate greater than 94 percent yield on the carpet input, according to the company.
According to a staff report from the California Alternative Energy and Advanced Transportation Financing Authority, which approved sales tax breaks for the equipment, the rotary impact separator units were designed by Broadview Group International, an Ohio engineering design and research firm.
Some pre-processing occurs before the rotary impact separator is used. Staff use handheld FTIR equipment to identify the plastic resins that make up the face fiber of incoming material. Then they hand sort the fiber by polymer type. Material is shredded before its fed into the separator.
Circular Polymers does what Bender described as the "heavy lifting" in the carpet recycling industry: the collection and processing by removing the backing. Handling mostly residential carpet, the company does most of its own collections, although it does purchase some from other collectors.
The company is selling the plastics in fluff and pellet form. As examples, several samples handed out at the Circular Polymers booth at the 2018 Plastics Recycling Conference included black PP pellets, gray nylon 6 pellets, black PET pellets, PP fiber and PET fiber. The company noted all samples had less than 6 percent ash, and the nylon and PET samples contained less than 2 percent PP.
No washing occurs before plastic is sent to the extruder, although one could wash the higher-value plastics, such as nylon 6,6, to increase their purity, Bender noted. Circular Polymers doesn't introduce additives itself, although some of the plastic is later compounded for specific customer applications.
Circular Polymers' website notes its products can be used in a number of industries, including housing and cold chain management. If a chemical recycling process is later used, end markets could include food and beverage packaging. Bender noted his company makes a product that's an ideal feedstock for depolymerization technologies, which break down plastics into monomers that can later be reassembled into new polymers.
The company currently has customers in the U.S. and Canada, Bender said.
Launching the plant
Bender has a background in PET reclamation, including with past ownership of Pure Tech Plastics (now owned by PolyQuest) in Farmingdale, N.Y. and Richmond, Ind. reclaimer Perpetual Recycling Solutions, which produces food-grade PET flake.
In March 2018, Bender and Jeff Kupets, Circular Polymer' chief financial officer, purchased Lincoln, Calif. carpet recycling company California Landfill Elimination and Recycling (CLEAR). Kupets was the managing partner of an index options trading firm. The two founders of Circular Polymers then brought on CLEAR's president, Nick Fiore, as a partner, Bender said.
After acquiring CLEAR, Circular Polymers retrofitted the plant with its separation technology, as well as off-the-shelf equipment such as shredders and balers. The investments boosted processing capacity from 10 million pounds per year to 30 million pounds annually. The company has plans to double capacity next year by installing a second line, Bender said.
Circular Polymers currently occupies 110,000 square feet of the Lincoln building, with rights to the rest of the building, which totals 145,000 square feet.
Circular Polymers has received financial support from both industry and government initiatives.
In February 2018, Carpet America Recovery Effort (CARE) announced it had awarded the company a $10,000 grant to help boost carpet collection.
In January 2018, the California Department of Resources Recycling and Recovery (CalRecycle) approved a $2 million Recycling Market Development Zone loan for Circular Polymers. Of that amount, three quarters was to go toward equipment purchases, with the remainder for working capital and loan closing costs. The loan was expected to help create 35 additional jobs, according to a CalRecycle press release.
"We were excited to get a loan from CalRecycle and to see CalRecycle's excitement about our project and our technology," Bender said. "It was absolutely important to our overall funding efforts."
In June 2017, the California Alternative Energy and Advanced Transportation Financing Authority approved sales tax breaks totaling an estimated $636,000 for $7.5 million worth of equipment for the Lincoln plant. The rotary impact separators were the single most expensive items to be purchased, estimated at more than $2 million total.
"California isn't the cheapest state to do business in," Bender said, "and we've very happy to work with the governor's office, the county and the local municipality to put together the right program to attract manufacturing and manufacturing jobs in the state."
Top photo credit: SKatzenberger/Shutterstock
Bottom photo courtesy of Circular Polymers
To receive the latest news and analysis about plastics recycling technologies, sign up now for our free monthly Plastics Recycling Update: Technology Edition e-newsletter.
More stories about technology