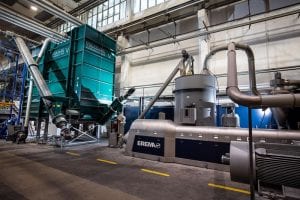 The latest equipment release from Erema combines key steps in the plastics recycling and compounding process to increase efficiency and quality.
The innovation in the Corema system is that it allows compounding to happen in the same system alongside pre-processing steps such as shredding and melting. Reclaimer setups generally perform these tasks in separate stages.
Post-consumer plastics move up a feeder belt and are dropped into a "preconditioning unit." Here, the plastics are transformed into a filtered melt, which is fed directly to a Coperion co-rotating twin-screw extruder. Additives, fillers, reinforcing agents and other compounds can be added as the mixture moves into a twin-screw extruder. The material then goes through a degassing stage and is ready to be pelletized.
The system was developed to meet custom specifications for recycling company Interseroh.
The one step-process cuts down on energy usage because the material only has to be heated once. Combining the melting and compounding also reduces inefficiencies. "The logistical workload is reduced, as no intermediate storage of the material is required," according to Interseroh.
Besides the advances in efficiency, the Corema system includes a digital quality control component. This enables higher output product purity, according to Interseroh, and it allows for a great deal of alteration in how the end product appears based on operator specifications.
"We thus always have control over, for example, the color or the flow speed of the material," Manica Ulcnik-Krump of Interseroh said in a speech at the Fakuma plastics processing show in October in Germany.  "And we can counteract any deviations without time delay."
Photo courtesy of Erema.
To receive the latest news and analysis about plastics recycling technologies, sign up now for our free monthly Plastics Recycling Update: Technology Edition e-newsletter.
More stories about technology