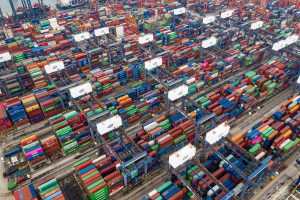 Southeast Asian countries continue to place restrictions on scrap plastic imports, affecting movement from U.S. ports.
The U.S. Census Bureau released September trade figures last week. Here, Plastics Recycling Update presents some of the top importing countries of U.S. recyclables during the third quarter of the year. Plastics Recycling Update previously reported on the top second-quarter export destinations for plastics.
In the third quarter, Southeast Asian imports mostly continued to decline, pushed down by countries taking interest in import restrictions.
Malaysia's dramatic drop continued in September, when U.S. exporters sent 7.5 million pounds of scrap plastic to the country, down from 9.6 million in August and 52.5 million in July. Malaysian authorities recently unveiled stringent requirements applying to imports of plastic recyclables.
During the third quarter, plastics exports to Thailand were also significantly down from their volumes earlier in the year. Exports to Thailand fell off notably starting in July, and through the entire third quarter Thailand imported just 4.3 million pounds of U.S. scrap plastic. For reference, the country imported 41.6 million pounds in May alone, before enacting sharper restrictions early in the summer.
Vietnamese imports maintained low volumes, as well. After importing 78.2 million pounds of U.S. scrap plastic during the second quarter, Vietnam brought in just 4.1 million pounds during the third quarter.
(Click chart to view in a new browser window.)
Photo credit: leungchopan/Shutterstock
More stories about exports