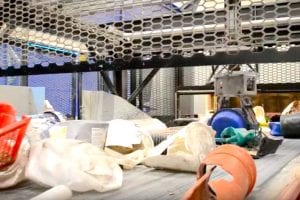 In order to achieve the cleanest possible stream, the Heavy Picker from ZenRobotics maximizes separation of heavy plastics before shredding.
The equipment can perform up to 2,000 picks per hour, per robotic arm, and the system can include up to three arms. The Heavy Picker uses an artificial intelligence system ZenRobotics calls ZenbrAIn.
The equipment can separate large objects that weigh up to 30 kilograms, according to the manufacturer. It employs a sensor unit that includes near infrared spectrum sensors, a 3D sensor system, a high-resolution camera, an imaging metal detector and a visual light spectrum sensor.
Other components include the robot's control system, robotic arms with grippers that open up to half a meter, and a safety cage.
The robot "sorts numerous waste material types and various objects simultaneously in one spot, reducing the need for complex pre-processing of waste," according to the company.
ZenRobotics notes its equipment is especially suited for sorting scrap plastic. Using a single robotic arm, the machine can sort up to four different fractions, attaining up to 98 percent purity, according to the manufacturer. The Heavy Picker sorts PET, PE, PVC and PP plastics.
"The robots are able to identify objects just like a human," said Janica Johansson, marketing director for ZenRobotics. She described the robot differentiating various plastic objects, including pipes, crates, garden furniture and more.
"Furthermore, robots can sort plastics by polymer or color," Johansson added. "Today, robots add flexibility to sorting and allow customers to sort waste exactly how they wish."
To receive the latest news and analysis about plastics recycling technologies, sign up now for our free monthly Plastics Recycling Update: Technology Edition e-newsletter.
More stories about technology