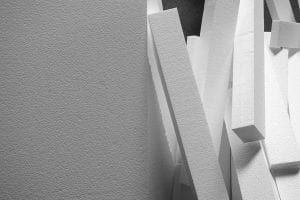 When it comes to chemical recycling techniques for scrap polystyrene, some companies break the plastic down into its component monomers, and others dissolve it without cutting the polymer chains.
"What we do is actually very different from either," said Dominic Di Mondo, vice president of technology and business development at Brantford, Ontario reclaimer GreenMantra Technologies. Using what he described as an "elegant chemistry," the company neither breaks it down to its base units nor simply reforms it, he said. Instead, it creates a new polymer from it.
A company that has made and sold waxes from post-consumer PE and PP, GreenMantra is working to scale up its technology to tackle PS. The demonstration facility is scheduled to come on-line in early 2019.
The next polymer
GreenMantra in fall 2016 announced the availability of its Ceranovus brand waxes made from recovered PE. Then, in 2017, the company followed up with PP waxes made from the controlled depolymerization process.
Now, GreenMantra is building a demonstration unit to tackle PS, creating specialty polymers for use in inks and coatings. The company has been working to apply its technology at lab scale to PS since 2016, Di Mondo said. That was when it expanded its testing equipment, which has been used to create the waxes, and began testing PS.
Success at lab scale creating products for use in coatings allowed GreenMantra Technologies in 2017 to receive a $2.3 million Canadian grant from Sustainable Development Technology Canada (SDTC).
GreenMantra's approach is different from others already in the marketplace. For example, Agilyx in Tigard, Ore. uses a pyrolysis process to break PS down into monomers, which can be used to make new plastic. On the other hand, Montreal company Poystyvert uses essential oils to dissolve expanded PS so it can be efficiently collected and purified. That process does not break the polymer down into its building blocks.
In contrast, GreenMantra's process breaks some of the bonds to create mid-molecular-weight polymers, Di Mondo said.
"We don't want to break every bond. We just try to break selective bonds," Di Mondo said. "By doing that we maintain the integrity of the polymer but it creates new materials, new products, new chemistry."
Variety of feedstocks and products
The process can be used on post-consumer and post-industrial foam or rigid PS with contamination.
Before feeding material into the conversion tank, standard pre-processing will be conducted, the level of which depends on the source and condition of the material. If it arrives at the demonstration facility in a bale, GreenMantra will have to do grinding or densifying to send it into the extruders, which serve almost as a pump to feed molten plastic into the conversion tank, Di Mondo said. GreenMantra can choose whether it wants to do melt filtration. Lower percentages of various polymers such as PET, PP or PE, as well as contaminants such as food debris, dirt, moisture and filler are not a problem for the technology, he said.
Once in the processing chamber, GreenMantra can manage any moisture or other contamination, including inks or residual food, Di Mondo said.
Currently, the only PS stream GreenMantra will not be processing in high concentrations is building insulation products. That's because they contain high levels of hazardous flame retardants. GreenMantra can handle streams with lower percentages of commingled insulation, however.
In a March 2018 report, a consultant exploring curbside foam downstream options for the city of Toronto touched on GreenMantra as one of several possibilities. As part of that project, GreenMantra received samples of PS recovered from the consumer waste stream, all of which were successfully utilized, Di Mondo said. Through the city's study, GreenMantra also received PS from a different reclaimer. That plastic came from building material foam containing flame retardants, so it wasn't evaluated, Di Mondo said.
GreenMantra's final products will be pellets, sold in super sacks, that can be used in place of virgin polymers in coatings and inks used in various products, including printing on magazines, boxes and plastic bags. The polymers can be used as carriers of pigment, allowing the ink to cure on the material, he said.
GreenMantra worked to design a product with properties that, in some cases, exceed those of virgin inputs. That can mean improvements in gloss and rub resistance, as examples, he said.
As part of the SDTC funding announcement, GreenMantra began a partnership with Sun Chemical to utilize styrenated polymer products in various inks and coatings applications. Sun Chemical is a global provider of inks, coatings, polymers and other materials.
Polymers for inks aren't the only product GreenMantra envisions for its process. The company hopes to use the demonstration plant to generate additives or raw materials for use in extruded foam insulation boards.
Photo credit: Taechit Tanantornanutra/Shutterstock

To receive the latest news and analysis about plastics recycling technologies, sign up now for our free monthly Plastics Recycling Update: Technology Edition e-newsletter.
More stories about technology