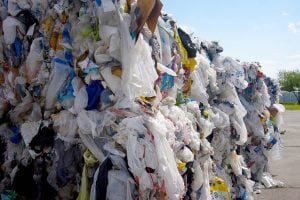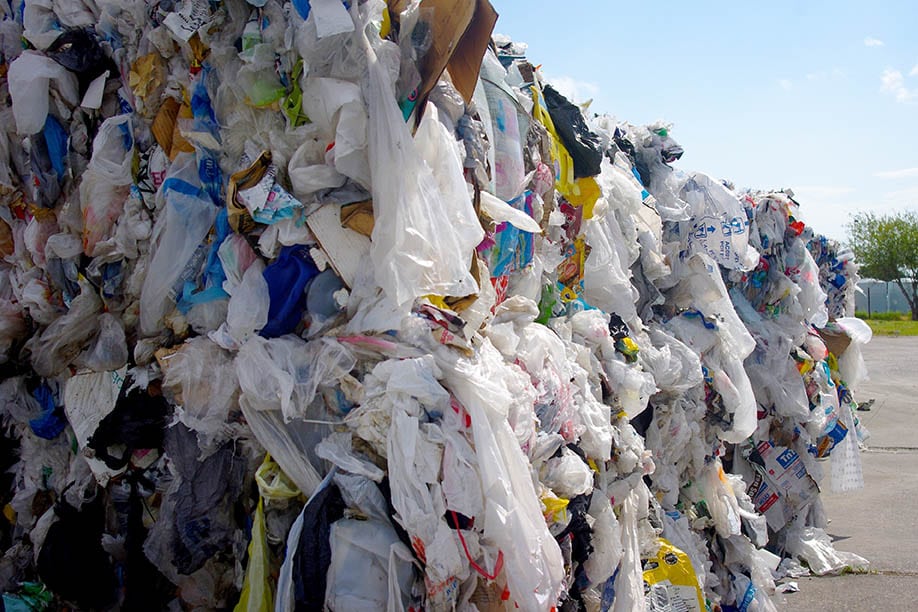 Film collected by retailers could be recycled into a number of additional product types, but contamination will likely stifle end-market potential for curbside material, a report concludes.
The Plastics Industry Association recently released the results of Phase I of a project to find new end markets for mixed PE film. Phase I consisted of obtaining samples of film, including both residential and commercial material, and processing and testing the plastic. The next steps, which have already begun, involve developing new end markets.
Major uses today for recovered PE film include lumber products and new films, usually dark-colored ones such as garbage bags. The project results indicated a number of other applications are within reach.
"Through our sample collection and evaluation during phase I, we were pleased to find that the sample material – even with some contamination – is very functional and can potentially be used in various end markets," Kim Holmes, vice president of sustainability for the Plastics Industry Association, stated in a press release. "In fact, the quality of the materials we collected exceeded even our initial expectations and have already led to further exploration."
Samples from retail drop-offs
In the project, which began in early 2017, stakeholders obtained samples of film from the following three sources:
Film from retail collections as part of the Wrap Recycling Action Program (WRAP), a national outreach campaign supporting film drop-off at stores.
Post-commercial film acquired by Petoskey Plastics
Film collected at the curb and sorted at a materials recovery facility (MRF), provided by Prime Plastics.
Samples of the film collected at stores were shipped to a facility run by plastics recycling equipment company Erema. Obvious contaminants were separated by hand, but the plastic wasn't washed before it was fed into an Intarema 1108 TVE Plus recycling system for pre-processing, melting, filtering, degassing and pelletization.
The system ran a continuous melt filter with a 100-micron screen. The system can process 400 pounds per hour, but it ran at 225 pounds per hour for the trials because of contamination levels. The filtration system discharged nearly 78 pounds per hour of contamination, equating to a 34 percent contamination rate, the report states.
"Aside from the manual separation, no further value added (such as optical sorting or washing) steps were performed outside of the processing performed by this system," according to the report. "The resulting pellets and performance exceeded expectations for such minimal pre-processing."
A sample of pellets was then sent for in-depth testing to Noble Polymers, a custom compounder in Grand Rapids, Mich. that mainly works with polyolefins. Noble Polymers compared mechanical testing values from the recycled film collected in stores to a grade of LDPE currently used to make 90-gallon curbside carts.
"It was concluded that the values of the testing suggest this is a material that has potential in a variety of applications," according to the Plastics Industry Association.
Testing other samples
For the project, Prime Recycling Solutions of Norwalk, Ohio supplied 10,000 pounds of mixed film, including film that had been positively sorted and negatively sorted at a MRF, as well as some material collected by stores.
The MRF sample was sent to Warren, Mich. recycling company Waste Free, which did extensive manual sorting before shredding, blending and densifying the film. It was so contaminated, the company didn't even test the entire sample, the report notes.
A 150-pound sample was then transported to recycling equipment company Technical Processing and Engineering, Inc. (TPEI) of Lehighton, Pa. for pelletization. There, contamination caused more problems: During pelletization, contaminants clogged the screen, increasing pressure and quickly blowing the screen pack. In response, TPEI installed a continuous screen changer to handle the higher level of contamination and attempt to create a sample of pellets.
Separately, plastics recycling and film product maker Petoskey Plastics of Petoskey, Mich. provided pellets made from post-commercial sources. The pellets were sent to three companies for testing: TPEI working in conjunction with Series One, an Ortonville, Mich. engineering consulting company; Printpack, an Atlanta-based packaging manufacturer; and Pak-Sher, a Kilgore, Texas plastic product maker. TPEI/Series One forwarded samples to Noble Polymers for further testing. The companies processed the plastic and studied its properties, generating volumes of data.
After looking at all the results, a Plastics Industry Association workgroup leading the project decided to go forward testing end market applications for film collected at stores, the first of the three streams tested in Phase I. The MRF material's contamination levels challenged the economic viability of processing it, the report concluded. And the workgroup felt the commercially generated film had been studied well enough to allow a benchmark for comparison with the retail-collected film.
Photo credit: PhilipR/Shutterstock
To receive the latest news and analysis about plastics recycling technologies, sign up now for our free monthly Plastics Recycling Update: Technology Edition e-newsletter.
More stories about film