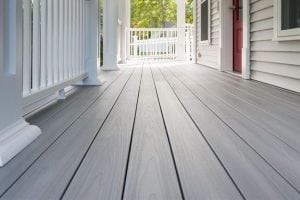 Fiberon, a major end user for recovered PE, will be purchased by a publicly traded company that owns prominent home and security product brands.
Deerfield, Ill.-based Fortune Brands Home & Security signed an agreement to acquire the composite lumber manufacturer for $470 million, according to a press release. Fiberon had about $200 million in sales in 2017.
With about 475 employees and operations in Meridian, Idaho, and New London, N.C., Fiberon manufactures wood-alternative products using recovered PE. Fiberon Recycling is a 200,000-square-foot facility that generates pellet from post-consumer and post-industrial PE, including rigid containers and films. Pellets are shipped less than three miles to the New London manufacturing site, or they're loaded on railcars for delivery across the country to the Meridian plant.  
At Fiberon's manufacturing facilities, the PE is co-extruded with recovered wood powder and an outer polymeric layer containing additives to ensure durability. The final boards contain 94 percent recycled content. A Fiberon video provides more detail about the company's recycling technology.
The company diverts roughly 60,000 tons of plastic and wood from landfills annually.
Other major companies using recovered PE to manufacture composite wood products include Trex, an industry behemoth that consumes about 185,000 tons of scrap plastic each year, and Advanced Environmental Recycling Technologies, which itself was acquired for $117 million last year.
The deal between Fortune Brands and Fiberon is subject to regulatory approval but is expected to close within 30 days, according to the press release. Fiberon will become part of Fortune Brands' new Doors & Security segment, which will include the Therma-Tru brand of doors. Therma-Tru already uses recycled plastic and wood to create composites for some door components.
Fortune Brands, which is part of the S&P 500 index, also owns other large brands in the plumbing, cabinet and lock and security sectors.
More stories about brand owners