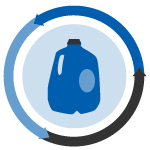 A project begins recycling post-consumer black packaging into new food packaging, and an advanced filter helps a U.S. reclaimer clean its PP melt.  
Breaking down thermosets: Chemical and Engineering News published an in-depth piece looking at the potential of chemical recycling to recover both thermoplastics and thermosets. The piece explores how university chemists are working on technologies to break down thermoset polymers so their building blocks can be reused. Thermoset polymers are increasingly being used in transportation and energy applications. The article also covers efforts to make fully recyclable thermosets.
Black packaging project: Two facilities run by U.K. waste management and recycling company Viridor are key to a project recycling black plastic into new food packaging. Packaging News reports on the project, which is a partnership of Viridor; retailers Marks & Spencer, Tesco and Sainsbury's; and packaging maker Faerch Plast. In July, they began using 120 metric tons per month of post-consumer black packaging in new packaging.
PS recycling partnership: Three French entities have partnered on a project to kickstart industrial-scale PS recycling in the country, according to Plastics News. One participant is petrochemicals company Total, which will recycle post-consumer PS packaging and construction scrap. Its goal is to produce 4,000 metric tons of plastic with at least 20 percent recycled content by the end of this year. Separately, Total has also signed a deal with Canadian EPS recycling startup Polystyvert.
Flame retardant limits: Recycling International reports that a proposal from the European Parliament to limit flame retardants could curtail recycling of plastics from electronics and end-of-life vehicles. The European Recycling Industries' Confederation (EuRIC) and the European Electronics Recyclers Association (EERA) warn about dire consequences of limiting concentrations of flame retardant decaBDE to 10 milligrams per kilogram in products. Hitting that limit in recycled plastics isn't technically feasible at industrial scale, they warn.
Depolymerization investment: Pyrowave, a Canadian startup using microwaves to help depolymerize PS, has received an investment of 1 million Canadian dollars (about $750,000) . It was the first transaction through the new Cleantech Co-Investment Program (CCIP), which was created by the government-owned Export Development Canada.
Recycled-content bottle: Plastics News reports major plastics supplier Borealis worked with partners to launch a new package made completely with post-consumer plastic. A key for the bottle was the use of the Purpolen brand recycled PE, which is manufactured by Borealis subsidiary MTM Plastics. A glue manufacturer has employed the black container to package adhesive products. Borealis, which is Europe's second-largest virgin polyolefin producer, has moved further into the recycling realm with the recent acquisition of Austrian film reclaimer Ecoplast Kunstoffrecycling.
Melt filtration technology: A melt filter provided by Italian company FIMIC has been installed as Massachusetts plastics reclaimer Aaron Industries, which is using it on a Davis-Standard extruder to clean post-consumer PP.  According to a press release, the RAS500 model filter is cleaning up to 2,000 pounds of PP per hour using a 35 mesh punched screen. FIMIC's North American sales agent is Zimmer America Recycling Solutions.
Polyester fiber recovery: After six years of research and development, a U.K. startup is commercializing its chemical recycling technology for recovering polyester from textiles. Worn Again Technologies announced it raised its investment target of 5 million British pounds ($6.5 million). The company's depolymerization technology can recover both reusable plastic and cotton from fabric blends. Among the major companies backing the startup is global clothing company H&M.
Adopting plastics-to-fuel: Finland-based renewable diesel company Neste is exploring the use of recovered plastics in its products. The company wants to proceed to industrial-scale trials in 2019, with a larger goal of processing one million metric tons of plastic annually by 2030, according to a press release.
To receive the latest news and analysis about plastics recycling technologies, sign up now for our free monthly Plastics Recycling Update: Technology Edition e-newsletter.