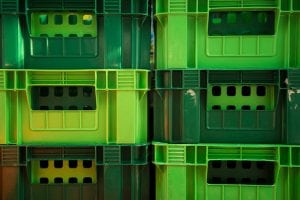 A Michigan man who sold plastic crates for recycling instead of delivering them for reuse has pleaded guilty to federal felony charges.
Arshawn Kenard Hall pleaded guilty on July 12 to one count of wire fraud and one count of willfully failing to file a tax return. Federal prosecutors dropped other counts as part of the plea agreement.
Hall, a resident of Farmington, Mich., operated a trucking business called RAMA Enterprise. He was contracted by Fiat-Chrysler Automobile Co. to transport crates of auto parts to locations across southeast Michigan. After delivering the parts, he was supposed to return the empty crates to a facility in Detroit.
Instead, in 2012 and 2013, Hall sold the empty crates to Wixom-Mich.-based recycling company General Mill Supply (GMS) for about $460,000, according to his plea agreement. The value of the crates to Fiat-Chrysler was more than $2.9 million.
According to a grand jury's April 26 superseding indictment, when selling the crates, Hall falsely represented to GMS that he owned the crates and was free to sell them as scrap material.
Additionally, Hall willfully failed to file a 2012 federal income tax return on behalf of RAMA Enterprise, according to the agreement. According to a press release from the U.S. Attorney's Office, the tax loss associated with failing to file the return was $142,000.
Hall faces a maximum of 20 years in prison for the wire fraud conviction and one year in prison for failing to file a tax return, in addition to monetary penalties. His sentencing has been set for Nov. 29.
The case is in U.S. District Court for the Eastern District of Michigan.
This isn't the first case involving the theft and recycling of plastic crates. Last year, police raided a Philadelphia facility in the business of recycling stolen plastic pallets, trays and crates. In 2016, police said they uncovered a ring in New Jersey involving the theft and recycling of plastic crates. Also in 2016, Miami-Dade County, Fla. police arrested 20 people in connection with the theft and recycling of $1.5 million worth of plastic crates.
Photo credit: Suttipong Prangsuwan/Shutterstock
More stories about courts/lawsuits