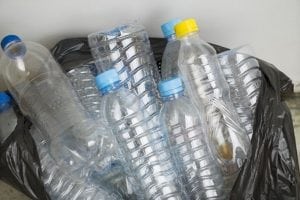 Quebec startup Loop Industries has unveiled a more efficient technology for depolymerizing scrap PET.
Loop uses a heatless, pressureless process to depolymerize PET, plastic with problematic inks, labels and other contaminants. The process generates monomers can be used to make the company's Loop brand PET.
The company says its Generation II process is more streamlined and efficient than the first generation. Instead of producing purified terephthalic acid (PTA) monomer, it now produces dimethyl terephthalate (DMT) monomer, which is also used to make new PET. The process involves a considerable reduction in energy use and the complete elimination of water.
"Producing DMT during depolymerization allows us to streamline our technology and eliminate even more resources, time and cost needed to yield PET monomers of the highest purity," Daniel Solomita, CEO  and founder of Loop Industries, stated in a press release.
Nelson Switzer, Loop's chief growth officer, told Plastics Recycling Update the company's end products, Loop PET resin and polyester fiber, are the same whether the monomer used is PTA or DMT. "Making and using DMT in our process greatly enhances the commercial and environmental efficiency of the process, so it's a terrific option for us," said Switzer, who recently moved to Loop from Nestlé.
Loop's short-term priority will be large-scale commercialization of the Generation II technology. In a separate press release, Loop announced it is designing a fully integrated manufacturing facility to commercialize the Generation II technology. The intent is to locate several such facilities near major cities.
"These facilities will make it possible for all forms of waste PET and polyester fiber, even ocean plastics that have been degraded by the sun and saltwater, to be fully recovered and upcycled into PET of the highest purity and performance quality," Solomita stated in the release.
Earlier this year, Loop announced a deal with French food and beverage company Danone. Loop will help Danone meet its 2025 goal of using 100 percent recycled plastic in its Evian brand water bottles.
Photo credit: Nokwan007/Shutterstock
To receive the latest news and analysis about plastics recycling technologies, sign up now for our free monthly Plastics Recycling Update: Technology Edition e-newsletter.
More stories about technology