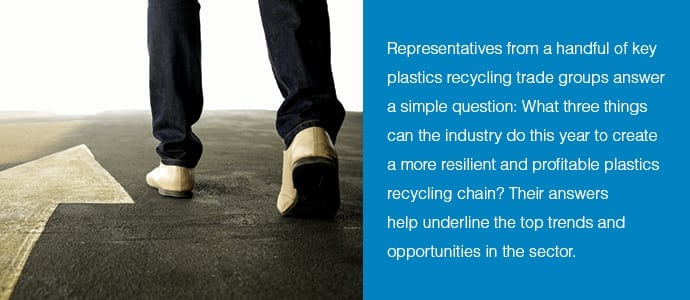 This story originally appeared in the February 2018 issue of Plastics Recycling Update. Subscribe today for access to all print content.
Plenty has been written about the challenges that have stood in front of the plastics recovery sector in recent months and years.
Low oil prices and market uncertainties were becoming a fact of life for reclaimers and others, and then China rocked the industry boat even more substantially last year when it began announcing significant plans to draw back levels of imported material.
Not surprisingly, leaders in North American plastics recycling have responded with calls to bolster value chain certainty by developing strong reliable markets domestically (or in countries that don't have Beijing as a capital). Much discussion has also been focused on boosting the quality of bales so that plastics processors aren't forced to spend so much time and money dealing with residual material.
How do we actually move forward in those areas and others that can help plastics recycling thrive? To find out, Plastics Recycling Update reached out to four key industry associations and asked them each to provide three tangible moves stakeholders can make over the next year to create a more resilient sector.
Their responses provide ideas on how industry players can move from anxiety to action amid current market realities.
Putting a focus on supply, demand and connectivity
By Craig Cookson, senior director of recycling and energy recovery, American Chemistry Council
Like other commodity businesses, plastics recycling will face ups and downs. However, recyclers can become stronger by focusing on economic fundamentals and quickly adapting to larger industry trends.
Here are three steps to help accomplish those goals:
Expand opportunities for recycled plastics
We can start by taking a look at our supply chains and participating in initiatives like the Association for Plastic Recyclers' Demand Champions program, where companies pledge to use more recycled plastics in "work in progress" products such as pallets, crates and slip sheets. We can also start to think beyond traditional end markets for plastics and explore chemical recycling and plastics-to-fuel technologies as end-market solutions for plastics that are currently not recycled mechanically due to economic or technological barriers. Expanding the list of end markets for plastics will help ensure that more plastics at materials recovery facilities (MRFs) will have somewhere to go other than landfill.
Further reduce contamination throughout
While progress has been made when it comes to materials quality, there is still room for improvement. The good news is there are already proven programs addressing contamination. For example, we're supporting the Terms & Tools project, which helps communities to clearly and effectively communicate with residents and MRFs. This can reduce confusion about plastics recycling and lower contamination rates. And we're working to grow the Wrap Recycling Action Program (WRAP), which educates consumers about how to recycle plastic wraps, bags and film so there is less contamination at MRFs.
Improve connections with residents
Better consumer education is also key to strengthening the effectiveness of plastics recycling. One of the most effective organizations addressing this issue is The Recycling Partnership. The group has made great strides in a short period of time, working with cities to measure contamination rates, educate residents about recycling, and determine the education's impact. But for The Recycling Partnership to continue its work, it needs the greater support of the plastics recycling value chain, from brand owners to recyclers and everyone in between. If we as a sector want to become stronger, we need to work together, and The Recycling Partnership provides an excellent avenue for doing so.
How strategic communication can push sector past barriers
By Jonathan Levy, director of member services, Institute of Scrap Recycling Industries (ISRI)
The plastics recycling industry is facing significant challenges now that China has imposed significant contamination limits on scrap plastic imports. How the industry responds to this challenge will have repercussions for years to come.
We see this not solely as an issue impacting plastics recyclers. It affects the entire recycling industry because much of the current struggle is tied to the high level of contaminants moving through the value chain. ISRI for its part, is holding discussions not only with its members but with external stakeholders to develop solutions to this challenge. Here are three ways we think the industry can successfully engage in dialogue to move forward.
Improve feedstock quality
With regard to plastics coming from curbside collection programs, the industry must speak with one voice and communicate clearly what is and is not acceptable to be put in a curbside bin. ISRI's "Guidelines for Inbound Curbside Recyclables for Material Recovery Facilities" is a great place to begin the discussion. It outlines from the MRF point of view what materials are preferred and those that are not. At the same time, communicating with packaging designers the impact their decisions have on the inbound scrap stream is equally important.
Work with manufacturing sector to boost demand
In order to improve demand for material, the industry needs to raise important points about product design to brand owners, consumers of plastic resins and manufacturers. ISRI's Design for Recycling policy asks that manufacturers create their products so that they can be easily disassembled, do not contain hazardous materials, and leverage more recycled content whenever possible. To help encourage greater use of PCR, recyclers need to lay out the impediments that currently exist. One place to start would be discussion of product specifications for recycled-content solutions that require levels of testing that are over and above those needed for virgin resins.
Encourage healthy export markets
Over the course of the past several months ISRI, has spent significant time talking to stakeholders around the world to show how their actions are impacting plastics recycling markets, and this has included direct dialogue with officials in China, India and Mexico. ISRI supports strong, healthy export markets. By encouraging the free flow of information between industry groups, recyclers and others, the industry can help stimulate demand in emerging markets and maintain trade relationships where they already exist.
Meeting difficult market conditions with direct action
By Laura Stewart, communications director, National Association for PET Container Resources (NAPCOR)
PET recycling has weathered several years of tough market realities. With the declining recovery rate for PET, the Chinese government's National Sword policy, and bale quality on the decline, is there really anything that can make the plastics recycling sector stronger in 2018?
As 2017 came to a close, we saw tight supply of virgin PET, and while that feels like a lift for recycled PET going into 2018, we at NAPCOR feel there are a few additional things worth focusing on to strengthen the plastics recycling sector.
Find ways to bolster quality and quantity of bales
As those in the PET recycling industry know, supply is a critical aspect in ensuring consistent quality of output. Both good supply and quality bales are topics near and dear to our hearts. While there is no silver bullet, by obtaining data on incoming bales and understanding drivers of lower yields, reclaimers may be able to identify one or two specific items to work on – either through engineered improvements, or by working with their suppliers. Additionally, companies would be wise to diversify and take on a material that may not be as desirable to others. Take a look at whether there are any changes that may be implemented on the line to process materials that are "hard to recycle."
Work with brand owners to maintain and grow PCR usage
Currently, we can point to several examples of brand owners that have an ongoing commitment to include recycled PET content in their packaging. Major brands continue to drive and hang their hats on environmental stewardship. It's the right thing to do. Where possible, recycling stakeholders should continue the dialogue with companies that have shown ongoing commitments to requiring recycled content in packaging and products.
Focus on industry collaboration
It takes a community to address the challenges that are in front of the PET recycling sector. Companies can help develop solutions by collaborating with industry experts and engaging with industry associations to ensure concerns are being addressed. NAPCOR members are actively involved and participate on committees designed to address many of the challenges the PET industry faces. And NAPCOR itself will continue to identify market opportunities to promote, educate and influence stakeholders to further solidify PET as the material of choice.
Existing programs and tools offer pathways to progress
By Steve Alexander, president and CEO, Association of Plastic Recyclers
We all know the industry impacts that have been seen by the oversupply of virgin material, China's restrictions, industry capacity realities, and a lack of market demand.
So what can be done in 2018 to strengthen our industry? APR's operating strategy focuses on three areas every day: increase supply, increase demand and enhance quality. Here's a look at how we're pushing progress in each of those realms by utilizing proven initiatives and helpful resources.
A powerful Partnership to lift supply
Finding a steady stream of quality material is always a challenge. Historically, data has been lacking regarding where packaging ends up, and how much makes it into the stream. APR was one of the initial founders of The Recycling Partnership, a group that has pioneered efforts to accumulate the key numbers to understand how much material is currently being captured from households. By working directly with many communities and capturing information from hundreds of others, The Recycling Partnership has developed systems to capture additional material and educate residents on what material should be placed into the stream. The opportunity to increase the volume of material through this effort is one of the most encouraging strategies on the supply side to date.
Pushing paradigm shift in PCR markets
APR has made increased market demand the cornerstone of our programs. While work with consumer brands has been ongoing for years, our recently announced APR Recycling Demand Champions Campaign represents a significant change in the paradigm of markets for PCR. This program focuses on the use of recycled material in items such as plastic pallets, carts, slip sheets, and other internal manufacturing materials. Initial participation in the program has exceeded expectations, with more companies inquiring about how to use recycled material in their products daily.
Better bales start with brands
Contamination of material and decreasing bale yields are critical issues facing our industry. APR's Brand Owner Training program works with consumer brands to design, or redesign, their packaging to be compatible with recycling. Working with the APR Design Guide for Plastics Recyclability, our goal is for brands to design more of their packaging with recycling in mind. There is a clear circular relationship that exists between the type of material placed in the recycling stream and the volume of good PCR that recyclers can produce. In addition, by serving as the technical resource for plastic packaging for the Sustainable Packaging Coalition's How2Recycle label, APR is able to ensure that containers and packages approved to use the label are consistent with current recycling technology.