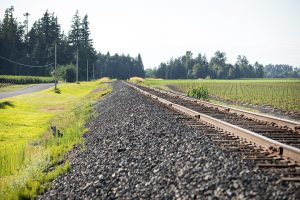 A new manufacturer with ties to QRS Recycling will begin making recycled-plastic railroad ties in St. Louis.
NICE Rail Products will create 82 jobs with its production facility in the city, according to a press release from the Missouri Department of Economic Development. It plans to begin hiring employees with experience in plastics extrusion, quality control and manufacturing this quarter.
The company is connected to QRS Recycling, which is headquartered in St. Louis and operates recycling facilities in a number of U.S. cities. Greg Janson, CEO of QRS, is co-founder and partner in NICE Rail Products. The company's CEO is Tim Noonan, who is an investor in Re-Poly, a St. Louis plastics recycling facility that's majority owned by QRS. That St. Louis site focuses on bulky rigid plastics.
QRS was also a former partner in a much-publicized plastics recovery facility outside Baltimore, but the plant idled last year. As Plastics Recycling Update reported this week, QRS removed itself from the Baltimore venture in November.
According to Missouri Secretary of State's Office records, NICE Rail Products LLC was first registered in August 2017.
NICE Rail Products makes the Evertrak line of railroad ties, which are made from recycled plastics and fiberglass. The company uses a patent-pending technology called "NICE Glass" to recycle fiberglass. The material is then used along with recycled plastics in the railroad ties. Last September, Noonan announced the launch of Evertrack, the company's first product.
"We are on the cusp of keeping billions of pounds of waste out of the landfills and providing a better product for our railroad customer," he wrote in a LinkedIn announcement.
NICE Rail Products' suppliers are QRS and Owens Corning, which makes insulation, roofing and fiberglass composites.
The distributor of the Evertrack ties is Nortrak, which says the ties are engineered to match the modulus of wood ties and allow for interspersing with existing track infrastructure. High glass fiber content gives them superior strength, according to a product brochure, and they have a long service life in difficult climates, in the presence of termites and when used on soft ground. According to Nortrak, the ties will be available in production quantities early this year.
NICE Rail Products is a veteran-owned business, with both Janson and Noonan having served in the U.S. Marines. Noonan is also on the board of The Mission Continues, a nonprofit group that helps veterans readjust to life at home, and he is chairman of the Missouri Veterans Commission.
Photo credit: PeterVandenbelt/Shutterstock
More stories about processing
To receive the latest news and analysis about plastics recycling technologies, sign up now for our free monthly Plastics Recycling Update: Technology Edition e-newsletter.