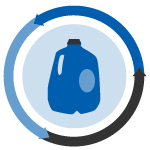 A couple of depolymerization companies announce major milestones in their efforts to recycle PET on a broader scale.
"Bio-recycling" advancement: French startup Carbios, which uses enzymes to break down PET into its components, has received a 1 million euro (about $1.25 million) payment after it successfully demonstrated its process can create new PET products. According to a press release, the payment from public investment bank Bpifrance came after it completed the Thanaplast project. The next step for the company is to launch a PET "bio-recycling" pilot plant.
Commercialized depolymerization: Loop Industries, which uses a heatless, pressureless technology to break down PET into its monomers so they can be reused to make new plastic, has purchased a site for a pilot plant. According to a filing from the publicly traded company, it bought a site in Terrebonne, Quebec from construction company Syscomax Immobilier for 2.78 million Canadian dollars (about $2.26 million).
To receive the latest news and analysis about plastics recycling technologies, sign up now for our free monthly Plastics Recycling Update: Technology Edition e-newsletter.