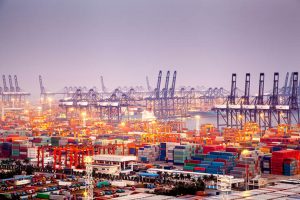 Chinese officials have reiterated that some post-consumer plastics will be banned from import by the end of the month, and have elaborated on stringent future enforcement and regulatory plans. Even so, one exporter sees the potential for washed flake to be allowed in under the new restrictions.
China announced last month that inbound loads of recyclables that are not outright banned will be allowed no more than 0.5 percent contamination starting next year, which is slightly less stringent than initial proposals. But for many exporters of post-consumer plastics, it's a moot point: the country's July announcement of a ban on certain recyclables by the end of the year includes scrap plastics, and that doesn't appear to have changed.
The new contamination limit was unveiled by China via a series of trade notifications with the World Trade Organization on Nov. 15. A 0.3 percent limit was initially proposed. The official Chinese standard is currently 1.5 percent.
More to come
The China Council for International Cooperation on Environment and Development (CCICED), which describes itself as an "international advisory body consisting of senior experts from both China and abroad in the field of environment and development," touches on the import ban in a paper that will be presented at the group's annual conference in Beijing this week. Top Chinese officials make up the group's leadership board, including the country's vice premier as well as its environmental protection minister, Li Ganjie.
The paper describes the recyclables ban in the context of progress on environmental protection. It reiterates the country's goals and plans with the measure in no uncertain terms. China will ban "many types of plastics, unsorted scrap paper and some metal scrap … by December 2017," the paper says.
The paper also clearly indicates the country plans to move forward with further restrictions, despite the trade disruptions the policies are causing.
"A further stop to waste material imports will be in place by 2019 through replacement of imports by substitution with domestic sources of raw and recycled sources," the paper says. "This refinement of China's Circular Economy is important, but has created great anxiety on the part of exporters located in countries such as the USA."
Finally, the paper notes that the import restrictions will "very likely" see further changes as "new concerns arise."
Enforcement a priority
Li, the top Chinese environmental official, recently indicated that China has plans to enforce upcoming import restrictions "to the letter."
He spoke during a press conference on Nov. 16 to provide a detailed update on the country's actions so far. Li characterized the country's materials ban and recently updated contaminant standards revision as separate actions.
U.S. industry leaders have noted that the new regulations, particularly the contaminant limits, will only matter to the degree that they are enforced. Li made it clear the country plans to remain vigilant on this front.
He "called for the environmental protection branches across the country to implement the implementation plan to the letter," according to a press release about the Nov. 16 press conference. And he said there will be a campaign similar to 2017's National Sword enacted during each of the next three years.
National Sword, which has since become synonymous in the U.S. with Chinese imports action in general, was launched by China in February and initially targeted materials smuggling operations.
The environmental ministry is currently reviewing the results of National Sword and plans to "punish the [non-compliant] companies severely and hold liable persons accountable," Li said.
The import ban doesn't officially begin until Jan. 1 and the contaminant standards are expected to take effect in March. But shipments to China have stalled for months already due to Chinese officials declining to issue new import permits since spring. Li described this as one of the myriad measures the country has taken to reduce scrap imports, noting that the "granting of solid waste import permits has been more strict" in recent months.
He added this will be the trend moving forward.
"In 2018, the waste import permits will be issued more discreetly and in a smaller amount," Li said. "We will conduct rigid on-site inspections over applicant companies and forbid falsification."
The press conference confirmed that Chinese interest in the import restrictions extends to the top of the country's leadership.
"General Secretary Xi Jinping attaches great importance to this effort and demands to unswervingly press ahead with this institutional reform," according to the release.
Washed flake OK?
Despite the firmness on certain components of the ban, one plastics recycling expert with direct knowledge of the regulatory process sees the possibility of some relaxing of certain rules.
In a market update last month, Steve Wong of the China Scrap Plastics Association said there are signs cleaner plastic material could enter the country.
Wong, who also serves as chairman of Hong Kong plastics recycling company Fukutomi, said "there is a possible leeway of certain forms of plastic scraps such as washed flakes allowed for import in 2018, if it can be justified by a 'recognized standard' as feedstock for finished goods production without prior processing."
He related a conversation with China's Director of General Administration of Customs in early November, in which Wong asked about the prospects for importing scrap plastic in washed flake form. He and the official talked about washed flake and how it could be classified as industrial material rather than lumped in with other raw scrap plastics.
"It is desirable that once the plastic scrap can meet such standards, it can be classified as industrial nature regardless of the origin of it and be categorized with a unique HS code tantamount to pellet and be allowed for importing," Wong wrote.
He described the official as "supportive," but no official actions have yet addressed this matter.
More stories about exports