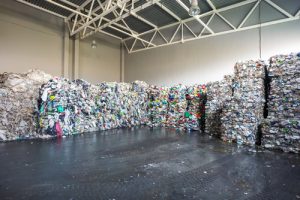 This week's gathering of the Association of Plastic Recyclers saw strong attendance in Pittsburgh as it linked up with a conference held by the Sustainable Packaging Coalition (SPC).
Attendees learned about a number of new initiatives and projects aimed at boosting plastics recycling and packaging sustainability. More than 400 executives came to Pennsylvania for the combined event.
APR expands testing protocols
The association announced it will test the recyclability of film, with a draft protocol now under review by members. In addition, the organization plans to develop a sortation potential protocol.
The group's existing design guidelines and protocols are still needed, said Steve Alexander, APR's president, as the association is concerned about the recyclability of new containers that have entered the marketplace, including those made from PLA and oxy-degradable plastic, as well as the introduction of a plastic can with a metal lid.
Rigid plastics remain a focus
APR's olefins and rigids committee has tied up with Massachusetts-based nonprofit group Manomet to aid APR's grocery-store rigids recovery effort by tracking grocery store plastics recovery, doing industry program promotion and partnering with reclaimers. The committee is now monitoring 25 chains that are active in the collection program. The project currently involves 5,000 stores recovering 20 million pounds of rigid plastics annually.
The committee will publish a polypropylene life-cycle analysis in early 2018.
Film is also a prime target
The 30-member film committee is working to develop a film recycling toolkit for use by local communities, collectors and processors. The group is also focusing on supply and demand issues, as well as working with SPC on the How2Recycle label initiative.
Sustainability issues in a huge packager
Dr. Mehmood Khan, vice chairman and chief scientific officer at PepsiCo, offered comments and advice to the combined APR-SPC audience. Khan said sustainability has nothing to do with business competition and he concluded it is all focused on partnerships. "No one can do it on its own," he said.
In addition, he pointed out an internal sustainability initiative is insufficient. "It's all about your supply chain," he contends. He noted that's where real change comes.
Khan said sustainability needs to start at the top. As an example, the PepsiCo Board of Directors currently has a permanent sustainability committee. In addition, all major capital expenditures go through a sustainability review to assure they meet sustainability goals. He suggested this goes against standard corporate action aimed at quarterly results. Khan said if you killed all company research-and-development and sustainability efforts, "quarterly returns would skyrocket" but the firm's viability would sharply decline.
To assure the sustainability of future forms of packaging, PepsiCo now operates a packaging design center in New York State combining designers, engineers, business managers and sustainability leaders in one place. In this manner, the firm is aiming to have sustainability integrated early on in the design process for new packaging.
Executives offer their comments
SPC brought together leading corporate executives to offer their views on sustainable packaging. Here are a few highlights:
Rebecca Zimmer from Starbucks concluded that coffee cups used in their stores are "our albatross and our greatest opportunity." Cup reusability and recyclable cups are where the firm is headed. "We need to do more," she said. Zimmer told the audience Starbucks plans to double post-consumer fiber in cups to 20 percent.
Procter & Gamble's Steve Sikra pointed out the firm plans to reduce by 20 percent the material used in packaging while increasing post-consumer resin (PCR) use by 20 percent (the company currently uses 37,000 tons of PCR annually). In addition, P&G wants 90 percent of its packaging to be recyclable by 2020 (it's currently at 86 percent).
APR's Steve Alexander, when speaking of his previous career, noted the plastic product with the highest recycling rate – a stunning 98 percent – was Kodak's disposable camera.
Ashley Hall from Walmart's sustainability team stressed how all of the group's efforts are interlinked. For example, Walmart's packaging recyclability and recycled content targets are key parts of the giant firm's greenhouse gas reduction goal.
Making labels compatible with PET recycling
An APR panel focused on the status of scrap label management in PET container recycling.
John Standish, APR's technical director, pointed out the potential problems from pressure-sensitive labels. With some glues, the labels are difficult to separate from the bottle or some of the adhesive stays on the bottle resin. Some label inks also cause wash-water issues, with heavy inks, such as those made from titanium oxide, separating from the label and sinking in the float tank along with the PET. Some other inks disperse in the wash water, causing reclaimers to use more water, energy and detergent. For APR, what's good in terms of PET labels is that labels come off of the bottle, the adhesive and ink remain with the label and the label floats in water.
There are current efforts to make this the norm. Sarah Dearman, a Coca-Cola sustainability executive, said APR's label testing protocol is now the default in the firm's relationship with packaging suppliers.
So what do label makers think about these changes? Dan Muenzer, the president of the 360-member Tag and Label Manufacturers Institute (TLMI), concluded "label folks want to be engaged." He said his members want to be part of the solution. "We come in peace," he said. About 70 percent of the products made by TLMI members are pressure-sensitive labels.
Processing plastics into fuel or chemicals
Michael Dungan from RES Polyflow summarized the company's 10-year effort to use pyrolysis to convert recovered plastic to fuel, wax and heavy naphthas. The firm is building a regional, 22,000-ton-per-year, 157-employee plant in Ashley, Ind. Dungan sees the total plastics-to-fuel market as $12 billion per year from 600 plants.
RES Polyflow has completed the processing of numerous mixes of plastics and has found its technology to be very flexible in terms of the plant's potential inflow and resin makeup. The technology involves a modular approach so that the facility can ramp up over time.
He said RES Polyflow is also assessing opportunities in converting scrap plastics to chemicals.
One firm moving forward in chemicals-from-plastics is GreenMantra. Ryan L'Abbe from the company described the firm's 85,000-square-foot plant in Brantford, Ontario that uses a specialized catalytic depolymerization technology to convert pelletized polyolefins into waxes. GreenMantra's system is also modular, thus allowing it to build regional facilities. The company is looking to expand beyond handling polyolefins and is assessing PS processing.
Quotes of note
On the Chinese bale import ban, Steve Sikra of P&G said, "It's about time. It's an opportunity and we should process plastics closer to home."
On industry investments in recycling, Ellen Martin of the Closed Loop Fund said the organization has invested $35 million in 14 projects, which produced more than $90 million in co-investment. These investments have boosted materials recovery by 250,000 tons so far.
More stories about industry groups