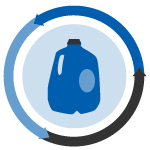 Achievements in flexible film packaging recycling are announced, and a new modifier for polyamides is released.
Recyclable pouch: A new line of Method dishwasher detergent packs will be packaged in Amcor pouches that can be recycled through retail PE film collections. The mono-material pouch, which also contains 20 percent post-consumer plastic, will carry the How2Recycle logo, according to the Sustainable Packaging Coalition.
PET recycling partnership: Krones and Erema will collaborate in the area of PET recycling systems, with each of the companies providing their technical expertise in the planning and design of systems. According to a press release, the goal is to "offer both the beverage and PET recycling industries an optimal line or an entire factory."
Supercritical CO2: A project in Europe has demonstrated the ability to remove contaminants and odors while recycling printed films, Plastics News Europe reports. The project, which uses supercritical carbon dioxide, was called CLIPP+ and was led by a U.K. manufacturer of flexible films. Plastics Recycling Update previously reported that one of the project partners, AIMPLAS in Spain, was involved in a separate project using supercritical carbon dioxide to decontaminate reclaimed pesticide and herbicide container plastics.
Challenging stream: Erema reports on how Netherlands-based Cedo Recycling is using Erema's INTAREMA technology to tackle a challenging material: films with layers of PET and PA and lots of organic contamination. The company is using a INTAREMA 1512 TVEplus with Laserfilter and homogenisation package to produce about 2,300 pounds per hour of recycled plastics from the stream. Reclaimed plastics are shipped to Cedo Great Britain to make products such as garbage bags.
Improved melt filter: Ettlinger Kunststoffmaschinen plans to release a new generation of melt filters at the upcoming Fakuma 2017 show. The system, which has already been used by pilot customers, allows for a 28 percent increase in throughput for the same filtration quality and same low melt losses.
Recycling systems sold: Amut Recycling Division has been selected by two European waste management companies to supply plastics recycling plants, according to a press release. The first will have two lines capable of recycling 5,500 pounds per hour of LDPE scrap, sourced mostly from post-consumer films. The second will have two lines for washing and pelletizing post-consumer plastics, with an output of 3,300 pounds per hour for LDPE film or 8,800 pounds per hour for PP and HDPE containers.
PA modifier: German company BrüggemannChemical has released a modifier that allows compounders and producers to adjust the relative viscosity of polyamides, the company announced. The new BRUGGOLEN TP-M1417 can be added to high-viscosity PA scrap to give producers a material with the desired relative viscosity, as well as mechanical properties on par with virgin PA injection-molding grades.
Sorting system sold: Bollegraaf Recycling Solutions has sold a fully automatic hard plastics sorting plant to SK Polymers, according to a press release. With a throughput of 6 metric tons per hour, the system will have a shredder, four optical sorters and a float-sink tank, among other equipment. It will target PE, PP, PP-talc, PS and ABS.