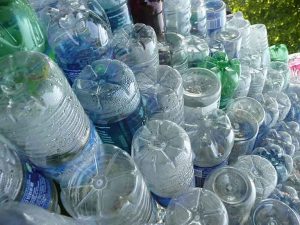 A major end user of recovered PET boosted its revenues last year, as it works to expand its recycled-plastic fiber brand and move into new recycling markets.
Unifi, maker of the Repreve brand of recycled polyester fiber, reported sales of $647.3 million during its 2017 fiscal year, up 0.6 percent from the year before. Revenue for the fourth quarter totaled $171.3 million, up 4.5 percent year over year.
The Greensboro, N.C.-headquartered company last year opened a $28 million PET bottle processing facility in Reidsville, N.C. The project allowed the company to generate up to 75 million pounds of rPET flake per year. The bottle-processing facility feeds the plastic to a separate location in Yadkinville, N.C. that converts it into Repreve fiber. Production capacities were recently augmented at the Yadkinville facility, too.
Repreve fabric is sold into the clothing, vehicle upholstery, home furnishings and other markets. Flake that Unifi doesn't need is sold to outside companies.
In November, the U.S. Food and Drug Administration issued a letter of non-objection allowing Unifi to sell rPET flake into the food and beverage packaging markets. The letter covers the use of the rPET at up to 100 percent recycled content in containers to hold fresh fruits, vegetables and eggs.
During a July 26 conference call, Tom Caudle, Unifi's president, told investors that, with the FDA's letter, "we are positioned for growth with yet another product line."
He added that the company is projecting the bottle-processing facility will generate earnings to payback the cost of the project in less than five years. Additionally, a fourth production line at the plant is scheduled to come on-line in 2018, boosting Unifi's annual domestic recycling capacity to well over the current 75 million pounds.
Kevin Hall, who began as CEO of Unifi in May, told listeners he expects the recycling investments to help drive revenue and earnings during the 2018 fiscal year.
"I see significant opportunity for Repreve and expanding our recycling and sustainability initiatives globally," he said.
More stories about PET