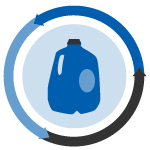 PE capacity in the North American market is expected to increase, and Pennsylvania's governor says he'll veto legislation prohibiting local plastic bag bans.
Executive override: Although Pennsylvania lawmakers recently approved a prohibition preventing local governments from enacting bans or taxes on plastic bags, the state's governor disagrees with that move. PennLive reports Pennsylvania Gov. Tom Wolf, a Democrat, has vowed to veto the bill, citing his support for local decision-making and expressing concern there could be constitutional problems with pre-empting action by local officials.
Hong Kong in focus: In a detailed story based in part on presentations at the Bureau of International Recyclers' Hong Kong summit in May, the South China Morning Post takes the opportunity to explore Hong Kong's domestic recycling efforts, which have been recently marked by declining recycling rates. The story touches on low oil prices, China's National Sword customs crackdown, contamination and facilities setting higher quality thresholds.
Capacity incoming: A 20 percent spike in virgin PE supply is heading for North American buyers. According to Plastics News, analysts point to an oversupply of the resin. Conversely, the PP market is not expected to experience a significant increase in capacity in the coming months, the analysts predict.
Microwave deconstruction: A Canadian company is using microwave technology to process polystyrene into a "recycled styrene monomer" that can be used in new manufacturing. Recycling International reports on the modular technology being developed by Pyrowave, which is looking to secure more waste polystyrene as feedstock for its processing operation.
Envisioning: Recycling programs rarely reach 100 percent perfection in terms of participation and behavior. But USA Today takes a look at what would happen numbers-wise if every U.S. resident were to recycle, using data from Keep America Beautiful as a basis.
Polymer fortress: Roughly 40,000 PET bottles have been used to construct a "castle" in the jungle on a Panamanian island. According to Deutsche Welle, the building's creator aims to turn it into a resort destination that can also raise awareness of plastic waste pollution.