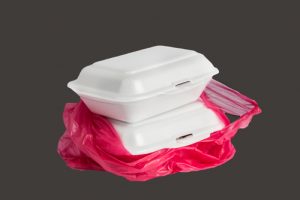 A statewide ban on expanded polystyrene food-service products was rejected in the California Senate last week, falling only a handful of votes short of passing.
Senate Bill 705, titled the Ocean Pollution Reduction Act, prohibited food vendors from using EPS food service packaging beginning in 2020. The bill started out as a prohibition on materials not accepted in local recycling programs but was amended several times and turned into the EPS ban.
On May 31, the Senate took a floor vote on the bill, and it failed 15-19. An opinion piece in the Los Angeles Times says the legislation failed not because a majority of the Senate voted against it, but because six senators chose to abstain from voting. If all six had cast votes in favor, it would have passed by two.
Ban proponent Californians Against Waste (CAW), in a message to supporters, likened the current foam battle to previous legislative debates over plastic bags and microbeads and said the push for a ban would continue. CAW says it will advocate for more local EPS bans, mimicking the strategy plastic bag opponents followed before the bag ban was passed statewide.
A Senate analysis of the bill indicates CAW was joined in supporting the bill by a host of environmental organizations, municipal recycling programs and other entities.
Opponents of the ban included the American Chemistry Council (ACC); Plastics Industry Association; Dart Container Corporation; California restaurants, retailers and manufacturers associations and more. The California Chamber of Commerce described the EPS ban as a "job killer" that would increase costs for businesses.
The foam battle in the most-populated U.S. state comes as the nation's largest city also deliberates over EPS products. New York City's controversial foam ban is scheduled to take effect in November, after an earlier version was defeated in court. Meanwhile, two proposals under consideration by the New York City Council would take alternative steps to deal with the material. One would impose a new ban on EPS products, while the other would require them to be accepted in the city's curbside recycling program.
More stories about challenging materials