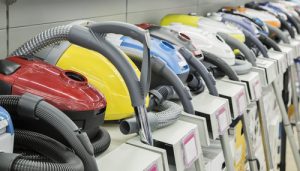 International appliance maker Electrolux reports it used 7,400 metric tons of recycled plastic last year, nearly double what it used two years earlier.
The company, which owns the Frigidaire brand among many others, reports its usage of recycled plastic increased 20 percent from 2015 to 2016. In releasing its 2016 sustainability report, the Stockholm-headquartered company also announced a goal of incorporating 20,000 tons of recycled plastic into its products by 2020.
"So far, the biggest shift has taken place in Europe, while we expect that our sectors in North America, Latin America and Asia Pacific will contribute more to the future increase," according to the report, which was released on March 20.
Electrolux developed a patented compound based on recycled polypropylene it calls Carborec. The company first began using Carborec in vacuum cleaners before expanding its use to other appliances.
"We continue to identify appliances where Carborec could be used, add to the components and appliances where it is already applied, and move ahead with even more products with recycled plastics," according to the report.
Electrolux's recycled plastic usage numbers do not include polyurethane foam used in appliances, the company said, because there aren't currently viable recycled alternatives to virgin PU foam.
Since 2012, the company has used about 50 percent more recycled plastic each year; however, to reach its 2020 goal, it will have to accelerate the growth.
Reaching the goal will require focusing Electrolux's purchasing and research-and-development efforts to enable to the use of additional sources of recycling plastic, according to the report.
The company must also adapt designs to incorporate recycling materials, look at increasing the percentage of recycled content in already-approved applications and assess new components for the use of recycled plastics.