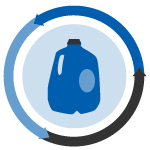 A Canadian community removes EPS from its curbside recycling program, and Greenpeace offers the soda industry a big thorn and a little rose over its plastic usage.
Big blaze: A truck crash led to a massive warehouse fire at a plastics recycling facility in Santa Fe Springs, Calif. According to the Whittier Daily News, the March 13 five-alarm fire at Multi-Link International Corporation completely destroyed two buildings that were "loaded with recycled plastics."
Soda survey: A survey by Greenpeace found soft drink producers use a low percentage of recycled content relative to virgin plastic in their bottles. But the survey also found the beverage industry has made progress in removing difficult-to-recycle plastics from the bottles they produce.
Dropping polystyrene: EPS materials will be dropped from a Canadian city's curbside recycling stream beginning next month. The Meaford Independent newspaper reports the municipality's only buyer of recycled foam products recently shuttered, and the city can't find any other market that will take the materials.
Aggressive targets: The European Parliament puts its stamp of approval on a 70 percent municipal solid waste recycling target for the European Union in 2030. For packaging materials, specifically, the targets would be 80 percent. The body must now negotiate with another branch of the EU called the Council of Ministers.
Composites climb: The global wood-plastic composites market is expected to reach nearly $6 billion by 2021, according to a new study by Technavio. The research company found the industry will grow by a compound annual growth rate of 11 percent and noted recycled PE is the preferred polymer due to its wide availability in the U.S.
Florida facility: A Brazilian company will build its first U.S. plastics recycling facility in Jacksonville, Fla. The Jacksonville Business Journal writes the $7 million facility will process recycled plastic bottles shipped in by parent company Clodam do Brasil.