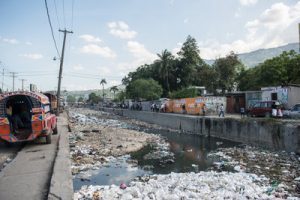 Dell's announcement that it will use HDPE recovered from Haiti's beaches, waterways and adjacent streets in its packaging garnered headlines far and wide.
But in a recent interview with Plastics Recycling Update, a company official made clear the effort is about more than a quick hit of good public relations: The technology giant is working to expand its use of ocean plastics, and it may start sourcing them from Asia.
"One of the goals we had is to set up a commercially viable supply chain for ocean plastic and one that can actually be expanded," said Oliver Campbell, Dell's director of procurement and packaging innovation.
Campbell spoke about the Texas-based company's efforts to prevent oceans plastics while providing feedstock for recycled-content trays holding its XPS 13 2-in-1 notebook device. He shed light on the supply chain – one that differs notably from a recent effort by Procter & Gamble and partners to use ocean plastics in Head & Shoulders bottles – and he talked about where Dell may go next.
Dell plans to use 8 tons of recovered ocean plastics in 2017. It aims to scale that up to 10 tons in 2018. The pilot project involves relatively small volumes, but it allows Dell to chart a more intelligent path as it scales up.
"This allows us to get experience with the supply chain, various characteristics of ocean plastics, and it helps us take a look at alternative materials that we find in that ocean plastics 'supermarket,'" Campbell said.
Finding the pollution
When Dell announced it was going to start using ocean plastics in product packaging, it also released a white paper on building supply chains using ocean plastics. Campbell is one of the authors. The paper shed light on how Dell found volumes of discarded plastics in Haiti, and it helps other companies in the search for usable litter.
"It's not just for Dell's use," Campbell said, "but we'd like to be able to see others participate, as well."
The global search for an ocean plastics supply chain starts with maps and Google Earth, which provided the satellite images researchers used to identify promising plastic pollution sites in Haiti. Then, two expeditions in 2016 to Port-au-Prince allowed staff to take photos and document the plastic accumulation sites.
"These photographs were then manually compared to Google Earth satellite imagery to confirm the Google Earth tool could be used to identify these trash 'hot spots,'" according to the white paper.
It was all part of a summer 2016 feasibility study that helped Dell understand how plastics accumulate on land and in water and what kind of volumes and contamination to expect.
"We really tried to take a measured and thoughtful approach to how we developed the supply chain," Campbell said.
Haiti was selected because of its relative proximity to Dell's North American offices and the fact a rudimentary plastics collection infrastructure already exists there.
In its research, Dell learned intercepting plastics on land or in coastal waterways was the best way to protect the environment while making the supply chain commercially viable. The economics of scooping floating plastics out of the mid-ocean just wasn't there. To do so would be extraordinarily difficult to acquire the desired plastics "at a cost structure that makes any kind of sense," Campbell said. By that point, they would have also undergone micro-fracturing and excessive degradation.
Making a tray
In Europe, P&G's ocean plastics work relies on volunteer beach clean-ups across Europe to provide feedstock and advanced sortation and plastics recycling technologies to clean it up. The infrastructure is less developed in Haiti, where pickers collect plastics by hand and sell them to low-tech recycling facilities, which employ manual sorters. Collectors learn from photos of different containers how to differentiate between different types of plastics.
Campbell said he wasn't able to provide specifics of its suppliers but could speak generally about the process. Dell acquires material from local plastics recycling companies in Haiti. Some of the HDPE containers were cleaned and flaked in Haiti and some were brought to the U.S. for those steps, Campbell said.
Then, plastic is shipped to China, where it is blended with other recovered HDPE and molded into a black tray. The final product is, by weight, 25 percent ocean plastics and 75 percent post-consumer HDPE sourced from established collection programs.
In establishing the ocean plastics recycled content, Dell wanted to use a substantial number – something above single digits, for example – but needed a low enough percentage that it could ensure a continuity of supply, Campbell said.
Unlike with P&G's project, Dell isn't using additives to boost the quality of the recovered HDPE.
"We deliberately picked an application where the structural characteristics are important, but I wouldn't say that they were critical," Campbell said.
It took a period of months and multiple prototypes to get the final plastic right, he said. A video provides glimpses into the work that went into finding the right formula (Campbell is wearing the green T-shirt in the video).
In the end, the 300,000 packaging trays will each be cheaper than the previous non-HDPE trays, Campbell said.
Future growth
The mapping work in Haiti involved an analysis of geographic, economic and population factors to see if the Caribbean country would work as a source of ocean plastics. Researchers used the same techniques to study Southeast Asia, a major source of ocean plastic pollution. The region is closer to Dell's packaging production in China, anyway.
"The analysis indicated that, based on the existing ocean plastic supply chain in Haiti, similar conditions exist in India and the Philippines," according to Dell's white paper. "Together there are over 100 waste accumulation sites visibly identified among these three countries. These locations should serve as the first-tier targets for developing a land-based ocean plastics supply chain."
Specifically, the top viable plastics concentrations in Asia were located in Chennai, India, and Manila, the Philippines. Smaller plastic debris locations were identified in China, Indonesia and Vietnam.
This summer, Dell officials will visit locations in Asia to get a better sense of plastic litter availability there, as it looks to scale up. The successor to the XPS 13 2-in-1 notebook is already slated to use the ocean plastics trays, but Dell wants to expand its use of ocean plastics further.
"The intention for us was never to have just one product," he said. "There is really a major effort for us to look at other applications for other products within the Dell portfolio."
Going forward, the company is also looking to incorporate different resins found on coastlines and in waterways. The company only chose to start with HDPE because it has experience working with the resin, and the plastic has good characteristics and properties, Campbell said.
Using their kids as sounding boards, Dell officials learned the public, especially younger people, has a personal connection with the ocean plastics problem, and recycling the material elicits great interest.
"I would urge your readers that if they see an opportunity to use … ocean plastic, now is a great time to get involved with it," Campbell said. "This portion of the industry is really starting to form, and that's really good to see."