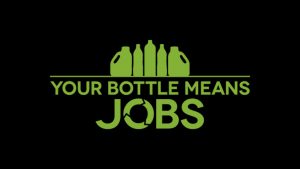 A host of billboards, radio messages, online ads and outreach events will pop up within the next couple of months in the Raleigh-Durham area of North Carolina. Their message: Recycling plastic bottles bolsters employment.
The "Your Bottle Means Jobs" campaign will launch in the March to May time frame in that metropolitan area, home to roughly 2 million people. The campaign was created by the Carolinas Plastics Recycling Council.
The outreach effort is encouraging people to recycle two more bottles each week, according to a campaign announcement. It notes that manufacturers of recycled-content products in the Carolinas have to bring in recovered plastics from other states or import them from other countries because they can't find enough post-consumer material domestically. Only about one-quarter of the used beverage containers recycled into new products in North Carolina and South Carolina are generated in the two states.
The campaign messages will be delivered with assistance from local solid waste managers and public information officers in the Raleigh-Durham area. A meeting will be scheduled this month with those representatives to coordinate the roll-out.
The Carolinas Plastics Recycling Council has raised about $50,000 of the $65,000 needed to implement the campaign, according to the Jan. 24 announcement email. The campaign has more than 40 sponsors, including major companies, industry groups and government agencies.
When the campaign ends, success will be measured using plastic bottle recycling data from a Raleigh materials recovery facility (MRF) processing all bottles from households.