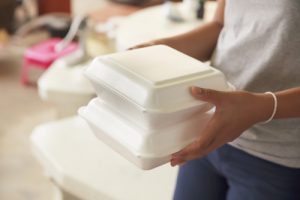 Maryland lawmakers are holding hearings on legislation that bans expanded polystyrene food-service products and packing peanuts in the state.
House Bill 229 prohibits the sale and distribution of EPS food-service and loose fill packing materials beginning in 2018. The companion bill in the Senate is Senate Bill 186.
No U.S. state has banned EPS packaging, though measures are in place in municipalities across the country. Debates over EPS prohibitions have often included discussion of whether the material can be recycled in a cost-effective manner.
The bill allows the Maryland Department of the Environment (MDE) to grant waivers to food service establishments in cases where the ban would present an undue hardship or practical difficulty that other businesses in similar circumstances are not experiencing. County health departments would be charged with enforcing the law, which could mean $250 fines for noncompliant businesses.
In a 2014 report, MDE noted that, in Maryland, only Caroline, Howard and Washington counties, as well as the city of Baltimore, accept EPS for recycling. Montgomery and Prince George's counties have restrictions on EPS items.
Starting in 2016, Washington, D.C. banned EPS products in restaurants and businesses.
The House of Representatives' Environment and Transportation Committee is scheduled to hold a hearing on HB 229 on Feb. 15. The Senate's Education, Health and Environmental Affairs Committee held a hearing on SB 186 on Jan. 31.
The House bill is sponsored by Democratic Delegate Brooke Lierman of Baltimore. In the Senate, the legislation is sponsored by Sen. Cheryl Kagan, a Democrat from Montgomery County. That county is a populous Washington, D.C.-area jurisdiction.