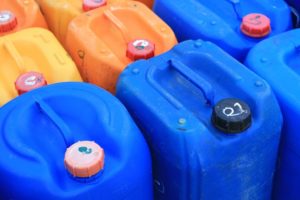 Two Indiana recycling companies have received state grants to expand recovery programs for what are often considered hard-to-recycle plastic materials.
Indianapolis-based East-Terra Plastics will receive $250,000 for its role in building a statewide agricultural plastics recovery system. The ag plastics category covers a host of products, notably plastic film that farmers use to protect crops, and numerous types of plastic containers.
Another $250,000 will go to Plastic Recycling Inc. for purchase of a screen changer and plastics extruder. This equipment allows the company to recycle foam PS and rigid PS food containers.
The grants were distributed through the state's Department of Environmental Management (IDEM) and its Recycling Market Development Program. That money comes from disposal and incineration fees.
The companies that received grants will also make their own investments in the projects through matching funds.
Ag plastics effort
East-Terra Plastics will focus on a program that initially targets the plastic containers that are ubiquitous in agricultural industries.
"Other than a landfill, (farmers) have no resource to dispose of these five-gallon containers," said Lawrence Bowlin, East-Terra business manager.
The plastics recycling business plans to offer another option: With the grant money, the company will purchase a flatbed trailer with a grinder mounted on it, and it will travel to designated pick-up sites in all 92 Indiana counties.
That's important due to one of the common barriers to ag plastics recycling: geography. The generators are spread out across long distances, so a mobile collector that comes to the generators lessens the travel time for farmers.
Because plastic containers are often disposed of rather than recycled, East-Terra will also include an educational component in its program to let farmers know some of the intricacies of ag plastics recycling.
There are strict cleanliness protocols that require the containers to have no residue and minimal discoloration. Containers must retain their labels so the recycling company knows what substance they held, such as herbicides or pesticides.
East-Terra will grind the material on-site, bring it back to its plant, wash and grind it again and resell it to plastic product manufacturers.
In the future, the program could also begin to address plastic drums, piping and tubing.
"It helps out the farmers, it helps out the environment and it brings resources to generate revenue in the recycling industry, as well," Bowlin said.
Recycling food-service containers
Plastic Recycling Inc. has traditionally focused on post-industrial plastics recycling rather than the post-consumer restaurant products.
"What we're trying to do is kind of open up a new front," said Fred Read, general manager of the Indianapolis-based company. "This is a new avenue for us, and we see a lot of new potential because it's post-consumer. It's something that not a lot of people are doing right now."
There are few enough companies recycling these products that some municipalities have taken to barring restaurants from providing the EPS and rigid PS food containers.
Plastic Recycling Inc. is in the process of setting up a post-consumer recycling facility in Indianapolis, Read said. It will take EPS, wash the material and pelletize it.