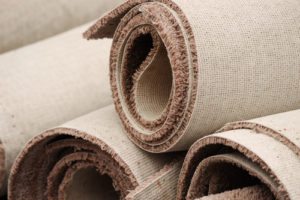 California regulators are threatening to bring the hammer down on a carpet stewardship group, saying it has failed for years to grow carpet recycling.
The California Department of Resources Recycling and Recovery (CalRecycle) says that for the past three years it has warned Carpet America Recovery Effort (CARE) that its efforts were falling short of legal requirements. It is now pursuing enforcement, which could include fines as high as $10,000 a day.
"Enforcement action was determined to be the appropriate course of action at this time, given CARE's failure to correct previous findings of noncompliance, and a recycling rate that has not shown improvement under its program stewardship," CalRecycle spokesman Mark Oldfield told Plastics Recycling Update.
Recycling carpet face fiber, the upper part consumers regularly touch, can yield post-consumer nylon, nylon 6,6, PET/PTT and PP. In some cases, the plastics can even be recycled back into new carpet.
In California, the carpet recycling rate has plateaued at around 10 percent. CARE's goal for 2020 is 24 percent.
In addition to pursuing possible penalties, CalRecycle rejected CARE's proposed 2017-21 carpet collection and recycling plan, arguing that it fails to comply with state law.
Bob Peoples, executive director of CARE, declined to comment to Plastics Recycling Update. In a 2017 plan submittal statement to CalRecycle, however, he wrote that the framework meets the legal requirements for approval. He stated those requirements dictate that the plan won't lower diversion and recycling rates and that it won't create any unfair advantages in the marketplace.
California is the only state with an extended producer responsibility (EPR) law in place for carpet. CARE, a Dalton, Ga.-based group, works on behalf of manufacturers of carpet sold in California to cover the requirements of the law. It collects fees paid by consumers when they purchase new carpet and provides subsidies to the recycling industry.
CARE also runs a voluntary program providing subsidies to carpet sorting companies in other parts of the country — funds from the program are not available to entities handling material from California.
Tough time for recycling
CalRecycle's Waste Evaluation and Enforcement Branch (WEEB) during a Dec. 20 public meeting unveiled the decision to pursue enforcement. During that meeting, staff from a different CalRecycle branch presented a request to reject CARE's 2017 plan. CalRecycle Director Scott Smithline agreed and rejected it.
According to a CalRecycle enforcement evaluation, regulators made several findings to justify their enforcement action: a lack of continuous and meaningful improvement in carpet recycling; significant gaps in collection opportunities around the state; ineffective marketing, education and outreach efforts; and a failure to respond to depressed markets for recovered carpet.
In its 2017 plan, CARE cited difficult market conditions as a challenge that is holding back growth in carpet recycling.
"The past five years have provided key lessons: Recycle markets are not only dynamic, but often unpredictable and coupled with global supply chains, outside the control of CARE, and thus difficult to manage," according to the plan.
Low plastics values have hurt plastics recycling companies, including those recycling carpet. Carpet is made up of different materials that are bound together with longevity in mind. Separating them for recycling is already difficult to do cost effectively.
Shaw Industries, a global carpet manufacturer, recently announced it was halting commercial-scale recycling at its $20 million facility in Ringgold, Ga. Shaw wasn't able to make the recycling of polyesters and nylons from post-consumer carpets technically viable on a commercial scale, according to floordaily.net. CARE's rejected California plan emphasized that an out-of-state recycling infrastructure is essential if carpet recycling in California is to be viable
Subsidizing a nascent industry
In a 17-page memo, CalRecycle cited the difficult market conditions when they accused CARE of continuing what they saw as inadequate subsidy programs.
"The 2017 plan does not describe a process for achieving continuous meaningful improvement beyond a general discussion of existing subsidies, which have proven insufficient to date," according to the memo. "In fact, CARE proposes to scale back subsidy guarantees to six months from the current one-year period; this seems counterintuitive for supporting a nascent California carpet recycling industry struggling to stay in business."
The subsidy guarantees give recycling companies predictability in how much they'll be paid so they can make needed investments. In its plan, CARE said the change to six months was necessary to "ensure liquidity of the funds" and allow money to be refocused to other subsidies in response to program goals and market changes.
"Given the significant level of subsidies currently being offered by the program, it is believed that this change will not greatly affect stakeholders' willingness to invest in opportunities presented by the program," according to CARE's 2017 plan.
The fee consumers pay when they buy new carpet increased on Jan. 1 from 20 cents to 25 cents per square yard. That fee hike will boost revenue to CARE's California recycling program. CARE also budgeted an increase in spending for "subsidy payouts" this year. Specifically, its 2017 plan proposes providing $19.7 million to carpet collectors, sorters, processors and recycled-content manufacturers, up 12.5 percent from last year.
CARE currently provides subsidies to manufacturers using post-consumer PET/PTT and PP from carpet, but it doesn't apply to nylon. CalRecycle suggested extending the subsidies to post-consumer nylon carpet, which has seen a significant drop in demand.
Details enforcement options
In the past, CalRecycle has deferred enforcement action to "provide CARE with the time and space necessary to build the foundation for recycling success," Oldfield said.
CalRecycle warned CARE in September 2013, September 2014 and September 2015 that its plans were not compliant and needed changes, according to the enforcement evaluation.
CalRecycle has legal authority to issue fines up of up to $10,000 per day, with the amount depending on various factors, according to the enforcement evaluation. If the agency decides to issue fines, its legal office will draw up an accusation document and file it with the Office of Administrative Hearings. CARE has 15 days to request a hearing. Hearings are typically scheduled about nine months out, Oldfield said.
As another option, CalRecycle could issue a compliance order spelling out milestones and timeframes CARE needs to meet.
In rejecting the plan, Smithline gave CARE up to 120 days to work with the agency to develop an amended plan and receive CalRecycle approval. He instructed agency staff to delay any enforcement action connected to the 2017 plan during that time.