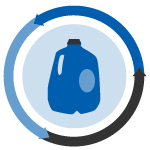 A documentary film investigating the ocean plastics problem heads to theaters, and a new technology from France scans packaging barcodes to tell consumers the details on recyclability.
Down on the farm: Minnesota farmers now have access to agricultural film recycling. Revolution Plastics operates the program and has handed out collection containers to more than 130 farmers already.
Coming attraction: A documentary film focused on the issue of plastic marine debris is now being screened at a variety of festivals and other venues across the U.S. "A Plastic Ocean" comes from filmmaker Craig Leeson and looks into the way plastic pollution is adversely affecting ocean ecosystems.
Recycling rate decline: Chicago's recycling rate dropped to 9 percent in 2016, down from 10 percent the year before, according to WBEZ 91.5 Chicago. Even residents who are adamant about recycling say they aren't sure what does and doesn't go in their single-stream carts. Recently, two reporters from DNAinfo went into a Chicago-area MRF to see for themselves just how badly plastic bags are messing up the recycling process.
Scan do: A French tech company has created a device that scans barcodes on packaging and then lets a consumer know whether a particular product is recyclable or not. The technology, called Eugene, is made to be mounted above a trash can or recycling receptacle.
PTO predictions: A report from Transparency Market Research forecasts the global plastics-to-oil market to grow to nearly $2 billion by 2024. That would equate to a 12.6 percent compound annual growth rate, according to the research firm.