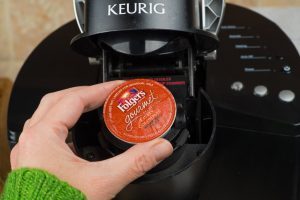 A leading producer of individual coffee cups says it will change how the product is made in order to aid recycling.
Monique Oxender, chief sustainability officer at Keurig, says the firm will introduce a recyclable polypropylene pod later this year. This follows tests at three materials recovery facilities (MRFs) and at KW Plastics in Alabama.
Used PP pods were mixed into a single-stream mix, then sorted for recovery, with the resulting PP material sent to KW to determine recyclability. The research showed that cups can be recovered at a MRF.
In terms of potential contamination, the filter paper remaining on some cups was not a problem, according to Oxender. She also said recyclability was not affected by the coffee grounds that were in some cups, although the inclusion of grounds creates an economic disincentive for recycling.
Research at a plastics reclaimer in Canada showed similar results, says Sherry Arcaro of the Canadian Stewardship Services Alliance. Arcaro notes that Merlin Plastics in British Columbia found no significant problems in processing cup scrap.