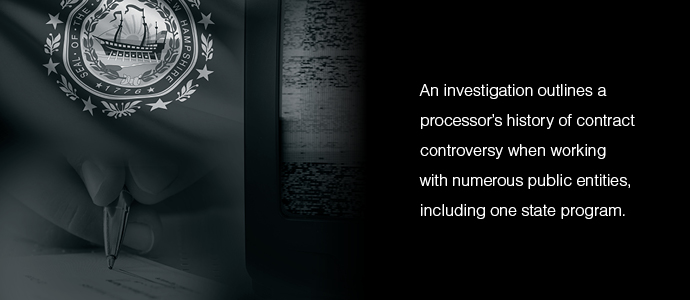 This article originally appeared in the Spring 2021 issue of E-Scrap News. Subscribe today for access to all print content.
In 2015, Diversified Asset Recovery won the three-year contract to recycle the state of New Hampshire's e-scrap. Less than a year later, state officials accused the processor of failing to pay rebates owed and canceled the agreement.
So in 2019, when Secure Recycling submitted the most attractive bid for the next three-year New Hampshire contract, state officials were wary. Secure was a newer company that had been launched by Diversified's owner, Bruce Manssuer, as Diversified was going bankrupt. Like Diversified, Secure was based in the Southeast U.S., over 1,000 miles from the Granite State.
Ultimately, New Hampshire did contract with Secure, but just three months later, the state canceled the deal, again accusing Manssuer of not paying for e-scrap.
"We had the gut feeling going into this that it would be just like Mr. Manssuer's previous company interactions with the state," Paul Rhodes, contract manager for the New Hampshire Department of Administrative Services (DAS), later wrote in an email to his colleagues.
There have been multiple instances of such misgivings for public officials working with Manssuer, whose companies have included Diversified, Secure and, most recently, Cornerstone Technologies.
Documents obtained by E-Scrap News show how Manssuer has regularly outbid competitors on public e-scrap recycling contracts, but in a number of cases his companies had proposals tossed out and contracts nixed, with some partners insisting they weren't paid money they were owed.
In addition to the state of New Hampshire, disputes have occurred with school districts and cities in the eastern U.S. And Manssuer's actions have also raised alarms with both e-Stewards and R2, the two certification standards focused on e-scrap processing.
When contacted by E-Scrap News in February, Manssuer described questions about business practices going back years as "unsettling" and insisted his companies have "made every attempt to make sure that all of our customers received the rebates/payments" for e-scrap that's received and recycled.
Yet as recently as the end of 2020, public-sector contract issues continued to follow Manssuer's operations.
BAN investigation and lawsuits
Controversy surrounding Manssuer-led e-scrap companies first became public six years ago.
Manssuer was then CEO of Orlando, Fla.-based companies Diversified Asset Recovery and Diversified Recycling, which had a location in Norcross, Ga. Diversified Asset Recovery was first incorporated in Florida in 2010, and the company that later became Diversified Recycling was formed in the state in 2008.
In 2015, the Basel Action Network (BAN) released a report accusing Diversified of sending leaded CRT glass from its Norcross location to a company that shipped it to a construction-and-demolition-debris landfill not authorized to accept the leaded glass. BAN also said Diversified sold broken devices to overseas buyers. Citing the investigation, e-Stewards, which was founded by BAN, suspended Diversified from seeking certification.
The following year, Diversified became mired in lawsuits, including one filed in July 2016 by investors who claimed they had been defrauded. In May and July, the Diversified companies filed for Chapter 7 bankruptcy. Florida and Georgia secretaries of state records show the Diversified companies closed and dissolved in 2016.
Meanwhile, in June 2016, Secure Recycling LLC, which is based in Norcross, was incorporated in Georgia with Manssuer as its CEO, state records show.
In 2017, Sustainable Electronics Recycling International (SERI), the organization that oversees the R2 certification standard, reported that Secure Recycling had provided a fake R2 certificate as part of a bid submission to a school district. Secure Recycling has never been R2 certified, according to SERI.
But that school district issue was not the first public-sector contract dustup for Manssuer.
In June 2014, Diversified Asset Recovery submitted a bid to the New Hampshire DAS that eclipsed those of seven other e-scrap companies, including companies with processing facilities in and near the state. Diversified won the contract to recycle unsorted electronics, CRT devices, LCD displays and computer equipment.
Within a short time, state employees came to believe that Diversified failed to follow the contract requirements, which included paying the state a per-pound rate for certain types of electronics, New Hampshire government records indicate.
DAS officials discovered discrepancies for loads collected in August and September 2014, and Diversified failed to pay rebates owed for loads collected in December 2014 and January 2015, according to a May 2015 letter from N.H. DAS to Manssuer. The letter, obtained by E-Scrap News as part of a public records request, notified Manssuer that DAS canceled the contract and would put Diversified on the "State Debarred Parties List," which prohibited Diversified from bidding on DAS contracts for three years.
With regard to the 2015 New Hampshire contract cancellation, Manssuer told E-Scrap News he's "unaware that we had not provided all of the rebates to DAS for the material we recycled for them. I can honestly say that we made every attempt to make sure that all of our customers received the rebates/payments for any and all material that was received and recycled."
Issues with school districts and municipalities
In the years following that initial dispute with New Hampshire, Manssuer's companies have repeatedly bid at the local level, creating a wake of public official frustration at different locations in the East.
A recent example took place in the city of Virginia Beach, Va., where local officials claim Manssuer's company still owes the municipality over $24,000 for e-scrap collected over a year ago.
"While we have not yet received restitution and the pandemic and court closings have delayed actions, we do have five years to enforce a written contract and it remains on the radar," Julie Hill, the city's communications director, told E-Scrap News.
In his response to questions from E-Scrap News, Manssuer disputed the notion that his company owes money to Virginia Beach, noting that Secure Recycling completed pickups that mostly consisted of low-value LCD TVs and CRT material.
"Due to the fact that the smashed, broken LCD televisions were not intact and the CRT devices, no payment was due for the three pickups," he wrote.
In mid-2017, Secure Recycling paid for e-scrap collected from Fort Mill School District in Fort Mill, S.C. with a bad $64,000 check, and then Manssuer failed to respond to district officials, according to documents from the school district.
The district sought assistance from a state judicial office, which sent Manssuer a letter threatening him with arrest and criminal prosecution if he didn't pay. After that, he did pay the requested amount.
Secure submitted a bid the following year to the Fort Mill School District for e-scrap recycling. This time, the district barred him from ever bidding again, citing in part "the lack of trust established from our prior business proceedings."
In April 2019, Fulton County Schools in Atlanta awarded Secure a one-year e-scrap recycling contract after the company beat out three competitors. Only four months later, the district had re-bid the contract and selected a different company. A district spokeswoman said the Secure contract was canceled "for convenience" but that Secure does not owe any money to the school district.
In several cases, public agencies tossed out otherwise winning bids from Manssuer's companies for various reasons.
In 2018, for instance, officials in Fulton County, N.Y. threw out Secure's bid because the company didn't provide additional references upon request, according to a county resolution.
In February 2019, the governments of Floyd County and the city of Rome, Ga. awarded a contract to Secure Recycling, initially believing the company held R2 certification. But the following month the award was canceled when they learned Secure did not have that certification, according to online documents.
In November 2020, Anderson School District Five in Anderson, S.C. awarded a bid to Cornerstone Technologies, the new Manssuer company that he launched in Georgia in 2019. The bid award included a notice stating that pick-up was time-sensitive. Due to an unforeseen issue on Cornerstone's end, the company wasn't able to pick=up equipment by the deadline, so the award went to the No. 2 bidder, said Scott Orr, director of purchasing and warehouse services for the school district.
Deja vu in the Granite State
Back in New Hampshire, in March 2019, Secure Recycling submitted a proposal that beat out 12 other companies, including those with nearby processing facilities, and was over twice as lucrative for the state as the next closest bid. Under the three-year contract, which was set to run from June 2019 to April 2022, electronics were to be collected from a property in the New Hampshire capital of Concord.
In the request for bids, DAS specified that the "contractor must be able to document that all downstream recyclers shall be either Responsible Recycling (R2:2013) or e-Stewards certified." In early June 2019, DAS Contract Manager Jeff Haley emailed Manssuer asking whether Secure had R2 or e-Stewards certification and whether Secure could provide certifications for its downstreams.
Manssuer provided the state a list of downstreams and wrote to officials that "I also use only R2-certified downstream vendors," but he didn't answer whether Secure, itself, held those certifications. DAS leaders gave their final approvals to the Secure contract on June 11, 2019.
On July 31, 2019, a third-party freight company working for Secure sent a truck to pick up 18 pallets of e-scrap from the New Hampshire surplus facility in Concord, according to an email from Jason Wright, a warehouse manager at the facility. Wright wrote that they shipped three pallets of PCs/towers; two pallets of large floor-standing copiers; two pallets of medium printers/copiers; two gaylords of small scanners, faxes and printers; two gaylords of LCD monitors; three gaylords of CRT monitors/TVs; two gaylords of miscellaneous e-waste; and two short gaylords of lab/radio/test equipment.
Three weeks after the pick-up, state officials had heard nothing from Secure Recycling, emails indicate.
"I just want to follow up on our conversation the other day regarding Secure Recycling," Haley of DAS wrote to Wright, the warehouse manager, on Aug. 20. "I am copying everyone because as you know this company is highly suspect and I want to be ready to default if necessary. Can you let us know if you have had any contact with Secure?"
Wright immediately replied to DAS officials that he hadn't. He then emailed Manssuer asking about receiving photos, weights of material received and any other intake details. Nine days later, on Aug. 29, Wright confirmed to DAS officials he still hadn't received photos or weight information. The contract required submitted load information and rebate/invoice within 30 days.
On Sept. 11, 2019, DAS issued Manssuer a letter notifying him the state was canceling Secure's contract because it failed to provide a rebate and other documentation from the July 31, 2019 pick-up. The letter informed Manssuer that Secure Recycling would be placed on a two-year bidding blacklist, closely mirroring what had happened with Diversified four years earlier.
In his responses to E-Scrap News questions, Manssuer argued he does not owe New Hampshire money. He wrote that the 18 pallets in question consisted mostly of LCD TVs and CRT monitors. He added that based on the contract pricing, the state actually owes his company money because of the weight of CRTs in the shipment.
"Unfortunately we did not process this pick-up in the contractually specified timeline and that resulted in a contract default," Manssuer wrote to E-Scrap News. "I was disappointed in the contract default, but understood that N.H. DAS had to take this action. Therefore, I did not contest the default."
In an email to E-Scrap News, N.H. DAS said it estimates Secure owes it about $500. Officials aren't concerned about any mishandling of data because "state protocol and processes require data destruction by agencies prior to inputting e-waste to surplus for recycling in order to prevent mismanagement."
Manssuer acknowledged that not all of his companies' contracts and bids have gone smoothly in recent years.
"It's well documented as you know that Diversified Recycling had its issues," he said in his responses to E-Scrap News. "There were varying factors and individuals that led to some of the lack of performance. I do know that the individuals involved did their best to fulfill all of the obligations in these contracts. There are often differences in perspective and expectations that lead to inherent conflict."
New name, another canceled deal
Manssuer told E-Scrap News that with Cornerstone, he plans to pull away from scrap electronics recycling in the future and move toward ITAD and related services. "This will be the business model moving forward," he stated.
Cornerstone Technologies is not R2 certified, and Manssuer insists that he does not claim R2 certification. But his companies' language around certification is at times murky.
The Cornerstone website says it "maintains STRICT adherence to the R2, Responsible Recycling Standards."
In recent bid documents, Secure Recycling has submitted a certificate that is not an official R2 certificate issued by a certification body but asserts that "all material was recycled by environmentally sound methods and consistent with R2 … ." The document is titled "R2 Certificate of Compliance & Data Destruction and Recycling."
In June 2020, Aiken County Public Schools, which had tossed out a bid from Diversified in 2015 after learning the company wasn't R2 certified, ended a contract that had been issued to Cornerstone Technologies and announced its intention to award the contract to another company. In so doing, the district noted simply it had "determined it to be in its best interest to cancel this award."
Jared Paben is the associate editor of E-Scrap News. He can be contacted at jared@resource-recycling.com.