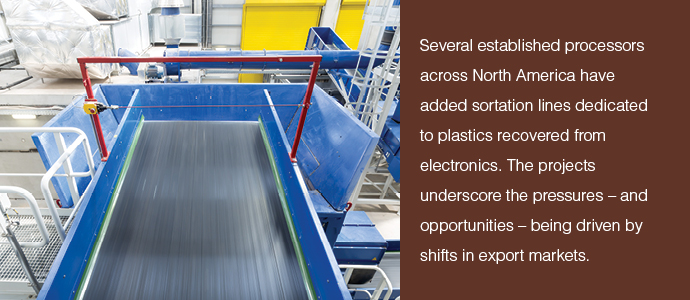 This article originally appeared in the Spring 2021 issue of E-Scrap News. Subscribe today for access to all print content.
In the years since China's announcement in 2017 that it would be closing the door to imports of low-value recycled plastics, electronics recycling companies have been scrambling to figure out how to handle the polymer segment of the stream.
Sending to Southeast Asia has become difficult – many countries in that region have implemented their own import bans. And domestic buyers have been few and far between.
Of late, however, some encouraging North American projects have come on-line, with recycling companies in both the e-scrap and plastics sectors investing and fine-tuning systems built specifically to sort e-plastics. By separating by resin, more downstream options open up, and this in turns allows material to keep moving through the system.
This article lays out the details on three recent efforts by processing companies to handle e-plastic materials. The endeavors underscore a sortation trend that could very likely be expanding in the years ahead, potentially reducing a major e-scrap cost pressure.
Processor's sort line in Midwest
Multi-site electronics processor URT has installed equipment at its Wisconsin headquarters allowing the company to produce clean e-plastic fractions for sale to domestic buyers.
The million-dollar-plus investment from Universal Recycling Technologies (URT), which was announced late last year, includes a system with tanks that float or sink materials based on their density. The equipment is able to sort plastics by polymer and flame retardant content, as well as recover any metals missed by earlier separation equipment.
Export market uncertainty and depressed values for e-plastics underpinned the decision to invest in the system, company leaders explained.
In an interview with E-Scrap News, Jeff Gloyd, URT's vice president of sales, explained that URT began looking at such a system three years ago, as China began implementing scrap import restrictions.
As a result of China's moves, many Southeast Asian countries became flooded with shipments of scrap plastic, often overwhelming ports, galvanizing environmental activists and prompting government crackdowns on imports. At the same time, buyers began paying lower prices for recovered e-plastics.
Global flows of e-plastics have also been impacted by an amendment to the Basel Convention that went into effect on Jan. 1, 2021. The amendment has pushed many countries to tighten controls on international shipments of scrap plastics.
Gloyd said the system "allows URT to own our destiny related to plastics recycling. This helps us stabilize value, which, in turn, helps us better service our diverse base of customers." Product outputs from the sorting system will be sold exclusively to U.S. buyers, Gloyd noted.
With a capacity of 6,000 pounds per hour, URT's system was designed to handle the amount of shredded e-plastic generated in URT's Janesville, Wis. plant on a single shift, Gloyd said.
That location already has an e-scrap processing line with shredders, magnets, an eddy current separator and optical sorters. The mixed one-inch-minus plastics coming off the end of that line will be fed into the float-sink system. There, different polymers will float or sink depending on their density. Salt will be used to modify water density in different tanks, allowing for polymer separations that wouldn't be possible in unmodified water.
The saleable outputs include dried granulated polystyrene, ABS, polyethylene and polypropylene, according to the company. Without using electrostatic separation or plastics-focused optical sorters, there will still be some mixing in those fractions, but the system's level of sorting "does give us that opportunity to open more downstream markets," Gloyd said.
When metals are missed by URT's existing magnetic separation equipment and optical sorters, they will sink in the tanks, allowing them to be recovered. URT's system will separate polycarbonate and flame retardant plastics for disposal.
Gloyd said the company hired half a dozen employees to operate the e-plastics system. During the first quarter of 2021, URT was planning to test sorting the two-inch-minus plastic outputs of its e-scrap shredders in Clackamas, Ore., and Fort Worth, Texas, with an eye toward possibly adding a second shift on the e-plastic system so it can handle additional material.
While URT isn't immediately planning to sort other e-scrap companies' plastics, that service is possible in the future.
Forward momentum for Ontario operation
Meanwhile, in Canada, BoMET Polymer Solutions is actively sourcing e-plastics from electronics recycling firms for the company's Ontario processing facility, where it produces pellets and regrind for sale to manufacturers.
BoMET, which also operates an e-scrap recycling facility in Albion, N.Y., first announced the e-plastic processing project in 2018. There have been a number of hurdles along the way, and over the past year the company reorganized its expansion project, modifying some of the equipment that was planned for installation, among other changes.
Over the second half of 2020, the company began steadily processing scrap plastics from a variety of suppliers.
In an interview, Bo Zhang, CEO of BoMET Polymer Solutions, said the Brantford, Ontario BoMET facility is handling all major e-plastic resins, including ABS, PS and PE/PP.
The company has installed what Zhang described as a "comprehensive" system that includes eight float-sink tanks to sort e-plastics. The facility also has an electrostatic separation line, an optical sorter and two pelletizing lines, Zhang said.
The float system is capable of sorting 12,000 pounds per hour, and the facility is currently running two shifts, five days per week. BoMET is planning to scale up to three shifts in the near future, Zhang said. The company is also planning to add a shredding system to handle baled plastics recovered from CRT devices, as well as a near-infrared system to sort individual gray and white plastics.
The company produces finished pellets as well as regrind, and currently most of its customers are in the international market, Zhang said, although it is making a push to sell to local end users.
The processing facility is bringing in – and paying for – e-plastics from electronics recycling companies in Canada and the U.S., and it has received more inquiries for potential scrap suppliers of late, Zhang said.
"They are all looking for domestic solutions," Zhang said.
BoMET also formed a supply partnership with Quantum Lifecycle Partners, a major Canadian e-scrap processor, which will use the BoMET facility as a domestic outlet for its e-plastics.
Additionally, BoMET is working with Shanghai Re-Mall, a Chinese polymer engineering firm that is helping BoMET navigate the overseas market for its products. The company has expertise on quality specifications that can help BoMET ensure its materials meet criteria for importing countries, Zhang said. For example, BoMET sends regrind or pellets to Shanghai Re-Mall, which analyzes them and can guide BoMET on specific attributes that need improvement, Zhang said.
The shift in where material is processed is leading manufacturers based in Asia to consider moving their operations to be closer to the supply of feedstock, Zhang said. He said multiple manufacturers are already doing this, including producers of recycled-content products such as plastic pots for the garden industry. And he predicted this will be the case for manufacturers of other recycled-content products, including clothing hangers, plastic decks and more.
"They will be setting up plants in the States and in Canada, because the material supply is here," Zhang said. "Their market is here as well."
Plastics reclaimer puts $2 million into e-plastics line
While the URT and BoMET projects are examples of e-scrap companies expanding to process plastic materials more comprehensively, action is also happening among companies in the plastics recycling sector itself.
Indianapolis-based Plastic Recycling, Inc. (PRI) recently invested roughly $2 million to install a system that produces clean recycled flake from e-plastics, Brandon Shaw, PRI's marketing manager, told E-Scrap News. The material is sorted by polymer.
PRI is processing the PE/PP, ABS and PS flakes into plastic pellets. Most of the pellets will be sold, but some will be molded by a PRI-owned manufacturer into plastic cores for paper rolls.
"Our end goal is to recycle this stuff – breathe new life into it – and sell it back to [original equipment manufacturers]," said Josh Barrick, who oversees marketing and purchasing for PRI. "Also, it would be very, very nice to get it back into electronics."
The move follows several similar developments from companies that focused on recycled plastics in different ways. RePolyTex, a plastics reclaimer and product manufacturer, is now producing construction boards from shredded e-plastics. And Brightmark Energy is sourcing e-plastics for conversion into chemical products such as fuels and waxes.
But the PRI project is notable because it represents a major investment in a separate processing line.
In business for over three decades, PRI has long been known as a recycler of various plastic streams, including rigid and foam polystyrene. Shaw explained that PRI was motivated to move into e-plastics partly by market opportunities opened by the Basel amendment and partly because PRI needs the feedstock for its extruders to meet demand for recycled plastic.
The e-plastics system was installed in Indianapolis at PRI's 120,000-square-foot facility, where the company has an existing scrap polyolefins processing line.
The line was first put in place in March 2020, and PRI began testing it in July, Barrick said. The system consists of three float-sink tanks, where materials are sorted based on their density. The process also uses a proprietary technology that removes labels, rubber and other contaminants as well as an electrostatic separator, which can sort PS from ABS plastics.
Finally, the line uses one flake sorter, which sorts by color, and six dryers.
The tanks use density-modified water, which allows them to make separations that would not otherwise be possible. The tanks remove metals, plastics that contain fire retardants, and other contaminants.
The system input is shredded e-scrap and toner cartridge plastics (the material is shredded again before going into the first of the tanks). The output consists of black, gray and white flakes of the following polymers: PE/PP (mostly PP), ABS and PS. The company is not currently taking in e-plastics recovered from CRT devices because this material tends to contain extremely high levels of flame retardants.
The flakes that PRI produces are shipped to the company's 500,000-square-foot location elsewhere in Indianapolis, where blending, compounding and pelletization occurs. PRI's five single-screw extruders and two twin-screw extruders have a total throughput capacity of 120 million pounds per year.
Shaw estimated 85% of the e-plastics pellets will be sold, and the remaining 15% will be transported back to the sortation facility, where PRI's manufacturing arm, Recycling Technologies, Inc. (RTI), will mold PS into plastic cores for paper rolls, such as those holding sales receipt paper.
Shaw and Barrick said the Basel amendment has opened up a market opportunity, but uncertainty remains. Barrick noted that a lot of e-plastics generators have been "drunk off export pricing," so PRI is waiting to see how the market pans out.
Shaw said PRI plans to add capacity to its e-plastics system, as needed. For a minimal additional investment, the company could double the line's capacity, he said.
Jared Paben is the associate editor for E-Scrap News. He can be contacted at jared@resource-recycling.com. Colin Staub is the senior reporter for E-Scrap News. He can be contacted at colin@resource-recycling.com.