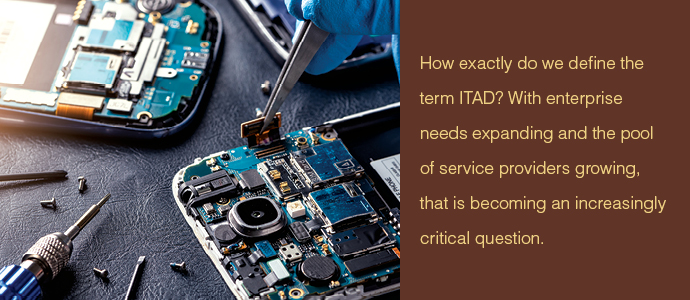 This article originally appeared in the Summer 2020 issue of E-Scrap News. Subscribe today for access to all print content.
The business of IT asset disposition is now a huge part of the electronics recovery ecosystem.
As corporations, institutions and other organizations outside the residential realm have come to understand the value of the material they generate – and the risks that come with improper handling – ITAD demand has grown quickly. And many electronics processing companies have formed or evolved their business models to serve these potential clients.
But during this period of market expansion, the term ITAD has become fuzzy, meaning different things to different stakeholders. And some operators that have spent considerable time and money creating systems tailored to the needs of commercial clients have seen other hopefuls start calling themselves ITAD providers but without proven asset management protocols in place.
To help push forward the conversation, the 2019 E-Scrap Conference and Trade Show in Orlando included a session called "Defining ITAD," which was put together by E-Reuse Services (a company that provides consulting and collaboration services to electronics recyclers and refurbishers, and hosts the annual Electronics Reuse Conference). E-Reuse Services and E-Scrap News also developed a survey asking industry members what ITAD means to them.
This article offers key takeaways from this multi-pronged dialogue.
Getting the basics straight
During the E-Scrap Conference session, held last September, industry leaders said a few foundational services can be expected of all ITAD operators.
"When I think ITAD, I think going to businesses, taking products, doing reuse and refurbishment on those, and then certainly any data destruction that needs to be done," said Karen Pollard, who served many years as electronics management expert at the U.S. EPA before retiring at the start of 2020. "I also understand I am a little old in that definition."
It's true that in recent years, the practice of ITAD has become far more nuanced than just picking up and repairing products, but Pollard's definition does get us going in the effort to put clear boundaries around ITAD: At the most basic level is the fact that companies in this specific sector are targeting commercial material.
It's also true any ITAD operator will need a clear and reliable system for dealing with a variety of material types, even those that cannot be remarketed.
"I need an ITAD partner with a recycling downstream," said Theresa DiMarco, Best Buy's electronics recycling program manager, a role that sees her manage all the electronics collected through Best Buy takeback and customer returns channels. "I'm getting the whole gamut of materials, so the first thing we look at is the complexity of the operation and whether they have a recycling function."
An extension of the enterprise
The fact that Best Buy and other corporations are relying on partners to effectively handle whatever is moved to them brings us to the next stage of what is expected of any ITAD firm: compliance capabilities.
It's here that expectations have been greatly heightened from enterprises over the past decade or so.
"When we started, [clients] just wanted material out the door and wanted to check a box that they got it out the door," said Craig Boswell, president of Dallas-based processor HOBI International. "They were also hoping you'd write them a check."
No longer is the situation quite so simple (though the expectation of a check often remains). Corporate and institutional material generators may now have entire teams focused on management of IT materials, and they understand the risks involved with sending equipment, which often contains huge amounts of sensitive data, outside the organization.
What they are looking for is a partner that handles the material with the same attention to detail they would internally, noted Mike Buckles, who is president of and founder of processor Technocycle in Houston.
"As an ITAD, they've entrusted us with equipment to properly take care of the data, to take care of the compliance and asset accountability," Buckles said. "Every step of the process we need to think about whether we are being proper stewards to our customer. How are we protecting the customer and their best interest and their brand and data?"
And of course enterprises are no longer willing to just take service providers at their word when it comes to compliance.
"Unlike the criminal system where you're innocent until proven guilty, if you are put in a compliance audit, you're guilty until proven innocent," said Bo Guilbeault, asset manager of retail infrastructure technologies at Starbucks. "The only way you prove your innocence is through a reporting mechanism."
Indeed, the industry now has multiple vendors providing software solutions for enterprise resource planning, or ERP, a testament to the great need among processors to provide detailed inventories of the assets handled and clear tracking of data destruction, chain of custody and more.
It's all tied to the fact that ITAD companies are expected to be able to identify and communicate details of material streams quickly and clearly. They also must keep increasingly complicated financial pieces in order.
"The client says, 'We want you to remarket everything that is remarketable and we want you to share revenue with us,'" said Buckles. "And all the time commodity values are changing. It forces you to be incredibly efficient in the way you do all this."
How certification fits in
Tied to the issue of compliance and record-keeping is the topic of certification.
As most industry professionals are likely aware, the electronics recycling and reuse sector has two standards geared toward ensuring best management practices: e-Stewards and R2. Hundreds of North American processors are now certified to one or the other, or both.
But are we at the point where we should be saying that to be considered a true ITAD, you need to have certification? From the perspective of many enterprises at least, the answer is yes.
"We do require R2 or e-Stewards to be a Best Buy partner," DiMarco said. "That's really a gateway for us to make sure people know best practices and are actually following them."
Added Buckles of Technocycle, "You can't get any big company contract without certification now."
Processors note that the cost and time commitment involved in certification is significant, especially when a business is organizing itself to be certified for the first time.
But industry veterans also say the process does bring real ROI – both because certification opens up opportunities for more business and because the requirements of certification inherently make for a more efficient operation.
"As we began to live the certification, we saw our on-site injury number go down," said Buckles of Technocycle, which is certified to R2. "We have a formal EH&S system that protects employees. We have controls that eliminate or mitigate any risk you, the employee, will be facing. It really created a way to show an investment not only in our employees but in the companies we service."
Boswell of HOBI International, which is also R2 certified, said that the impacts of certification on the industry over the past decade have become clear. Because of chain-of-custody requirements put on companies handling material, the average operator just knows a lot more about where material is ending up.
"I think we're seeing the industry as a whole come to grips with the fact there are paths that are acceptable and paths that are unacceptable," he said.
But Boswell also noted that because certification has become so widespread in the ITAD marketplace, it's actually leading to relaxed due diligence on the part of some clients.
"It used to be you would get an on-site audit because that's all we had, and we encouraged that," he said. "Now we'll ask, 'Are you going to audit the five vendors on this RFP?' and they'll say, 'No, we only use R2 certified so we don't have to worry about that.'"
In recent years, there have been cases where processors that held either e-Stewards or R2 certification have been found to be improperly handling materials. In some of these cases, executives from those processing firms have faced criminal charges.
"A lot of the problem is [clients] have never actually been to a facility to see the difference between an ITAD facility and another one," Boswell said.
Guiding the way
Indeed, it seems the biggest step operators can take to help the marketplace understand what should truly define ITAD is working with enterprises to show them the complexity and value that comes with doing asset disposition right.
And some of that comes down to being realistic with pricing and showing in black and white that proper service costs more.
It is of course a fact of business life that you gain an advantage in trying to win over a piece of business if you can come with the lowest price. But industry leaders say that when operators fail to draw a line in the sand in terms of how low they'll go, they only end up hurting themselves.
Guilbeault, who was a longtime ITAD consultant before joining Starbucks, said he's seen plenty of cases of processing companies taking deals that didn't truly pencil out for them economically just to win a contract.
"In my humble opinion, they have hurt the industry," he said, "because it's de-valuing the services right off the spot and saying [ITAD service] is a commodity. It's not."
That point that ITAD is so much more than just collecting material for its commodity value is one that comes up again and again in sector conversations.
ITAD is not just materials management, experts say. It is about partnering and problem solving.
"What we really want to do is take a very complex problem and make it very simple for the client so they can focus on their business," said Buckles. "We can offload all the complexity of end-of-life disposition onto our team. Then we talk with customers, and if they have specific requirements, we engage with them. We end up with something that fits them perfectly."
And in the years ahead, the market seems primed to continue to become more complex, with remote working, software-as-service, data security and more all expected to rise in importance for corporations and institutions.
"The number of electronics is going to continue to explode," said Guilbeault. "The question is: How are businesses going to evolve compliance and risk mitigation?"
With a more clearly defined ITAD sector to work with, those questions of evolution will hopefully be easier to answer.
Dan Leif is the managing editor of E-Scrap News and can be contacted at dan@resource-recycling.com.