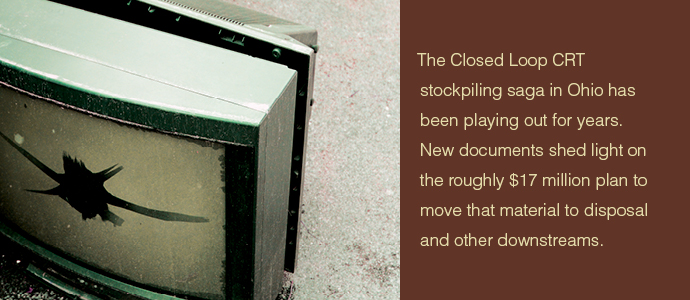 This article originally appeared in the Summer 2020 issue of E-Scrap News. Subscribe today for access to all print content.
Since 2016, the e-scrap industry has known about the huge tonnages of abandoned CRTs sitting in Columbus, Ohio. The glass has been at the center of an ongoing legal push from landlords trying to extract money for cleanup costs from former suppliers, and it's served as a symbol of the struggles the negative-value material brings to processors, state programs and OEMs.
Now, details are emerging on how the mess in Columbus will at long last be cleaned up.
E-scrap company Novotec will be paid up to $14 million to recycle or dispose of over 128 million pounds of CRT materials at former Closed Loop Refining and Recovery warehouses, newly released documents show.
The records indicate that Novotec submitted a preferred proposal to clean out two sprawling warehouses owned by commercial real estate company Garrison Southfield Park. The Columbus facilities hold roughly 128.2 million pounds of CRT materials. Of that, about 113.8 million pounds consists of mixed leaded and unleaded crushed glass likely destined for landfill, not recycling, the documents indicate.
Recently posted online, the cleanup plan and related reports provide details about the stockpile composition, lead dust contamination levels, bid proposals submitted over the years, cleanout and decontamination strategies, and more.
The documents were prepared by EnSafe, an environmental planning, engineering and restoration firm working on behalf of Garrison Southfield Park. They were submitted to the Ohio Environmental Protection Agency on April 17. Garrison Southfield Park has been engaged in litigation over the last year to try to elicit funds from over 40 former suppliers of Closed Loop to help pay for the cleanup.
"Representatives of Garrison Southfield Park LLC have worked extensively with the Ohio Environmental Protection Agency to develop a cleanup plan that is both cost effective and sufficiently protective of human health and the environment," Karl Heisler, counsel for Garrison Southfield Park, said in a statement. "This plan achieves both objectives."
Clean out and decontamination phases
The cleanup plan covers two warehouses along Watkins Road in southeast Columbus. Closed Loop also had a third Columbus warehouse, on Fairwood Avenue, that holds about 30 million pounds of CRT materials. Just before the deadline for this edition of E-Scrap News, hundreds of pages of documents were posted online outlining the cleanup plan for that site. Head to resource-recycling.com/e-scrap for updates on that development.
EnSafe's cleanup plan details how the Watkins Road warehouses will be cleaned out and decontaminated so they can be re-rented. Closed Loop leased the spaces from 2012 through early 2016, when the company failed and abandoned the properties.
The plan calls for a phased approach, recognizing that the two warehouses hold different types of material. In 2016, consulting firm Atwell worked with representatives of URT, a Janesville, Wis.-headquartered CRT processor, to develop estimates of material on site.
Atwell's 2017 report estimates the warehouse at 1675 Watkins Road contains 3.6 million pounds of unprocessed CRTs, 113.8 million pounds of crushed glass and 515,000 pounds of plastic, glass and steel. At 1655 Watkins Road next door, there is 10.3 million pounds of unprocessed CRTs, no crushed glass and 36,000 pounds of plastic, glass and steel, according to Atwell.
In addition to stored material, the facilities have some processing equipment. An EnSafe report noted 1675 Watkins Road has areas where Closed Loop dismantled display devices and crushed glass. The 1655 Watkins Road site had a small area where crews would dismantle devices.
During the cleanup project, crews will first tackle 1655 Watkins Road, a 145,000-square-foot space. After contamination reduction and clean-loading zones are completed, Novotec will remove the unprocessed display devices and intact CRTs stored there. After that, crews will decontaminate the building and the project manager will prepare necessary closure documentation.
Next, crews will replicate the process at 1675 Watkins Road, a 290,000-square-foot space with some unprocessed CRTs and all of the crushed, mixed glass.
A test of the cleanup and decontamination process took place at 1655 Watkins Road in summer 2019. Crews established a contamination reduction zone and cleaned and removed about 186,000 pounds of projection lenses for processing by Novotec.
Dust in both warehouses is hazardous because of its high lead concentrations, requiring decontamination of dust-covered gaylords before they leave the building, according to the documents.
In late 2015, engineering and consulting firm AECOM tested dust samples at the warehouses. Using one technique, researchers found dust samples ranged between 2,200 and 15,000 parts per million for lead, exceeding Ohio's standard of 400 parts per million for residential soil.
Using a process called toxicity characteristic leaching procedure (TCLP), testers found lead in dust samples at 1655 Watkins Road ranging from 92 to 180 milligrams per liter and lead in samples from 1675 Watkins Road at 11 to 220 milligrams per liter. The hazardous concentration threshold is 5 milligrams per liter.
EnSafe's plan includes a four-year estimated timeline for the cleanup and decontamination of both warehouses. It's unknown when the Ohio EPA will approve the plan. A public comment period was scheduled to run through June 25.
After approval from the state agency, Garrison Southfield Park will give Ohio officials 30 days notice before starting the work on-site, according to the cleanup documents.
Project funded partially through supplier settlements
All told, the cleanup and decontamination project could cost an estimated $16.67 million, not counting expenses that have already been incurred, according to the plan.
Legal settlements that have been reached over the past two years will help fund the project.
In March 2019, Garrison Southfield Park and Olymbec USA, which owns the Fairwood Avenue warehouse, filed complaints in federal court naming as defendants over 40 companies that shipped CRT materials to Closed Loop in Columbus. The lawsuits argue the companies must pay to clean up the sites.
Court records show that, to date, 24 companies have agreed to settle and pay out a combined total of nearly $2.73 million, although not all settlements have yet been considered by the judge.
Settlement money will go into an escrow account, and the Ohio EPA has the authority to approve Garrison Southfield Park's expenditures from the fund.
Already over $400,000 has been spent for evaluation and planning, as well as the projection-lens cleanup project, the documents show. The records show the Ohio EPA approved of expenditures from an escrow account to fund the projection-lens work.
In terms of the project cost estimates from contractors, Novotec predicts a cost of $14 million to remove and dispose/recycle of material. It will charge 22 cents per pound for whole units, 14 cents per pound for unprocessed CRTs and 10.25 cents per pound for mixed, crushed funnel and panel glass in gaylords.
Meanwhile, HEPA Environmental Services provided an $1.6 million estimate for setting up the contamination reduction zones, performing decontamination, and treating and disposing of waste water.
A firm called AKT Peerless gave an estimate of $1.05 million for project management, including creating closure reports.
Cleanup proposals from several industry companies
Novotec first submitted a cleanup proposal for the project in August 2016, along with Environmental Management Specialists, BCS/Glassico, ERI, Kuusakoski, Hazardous Waste Experts and URT.
Environmental Management Specialists proposed to load the material, not transport or recycle it. Atwell determined bids from BCS/Glassico, ERI and Kuusakoski were not competitive.
Additionally, Kuusakoski's bid was tossed out because the Illinois-based company was involved in shipping CRT materials to Closed Loop in the first place.
"Kuusakoski was eliminated from consideration in light of Closed Loop records that indicated that Kuusakoski or entities affiliated with Kuusakoski had previously shipped approximately 40 million [pounds] of e-waste to the Site for processing by Closed Loop," according to Atwell's report.
Hazardous Waste Experts, Novotec and URT were the top three bidders, Atwell concluded. Novotec, which has the low bid, was identified as the preferred contractor.
On April 13, 2020, Novotec's CEO, Tom Bolon, submitted a revised bid, noting that some prices increased over the past four years. For example, the price quote for whole display units increased from 16 cents per pound in 2016 to 22 cents, due to increased downstream market rates, higher transportation costs, increased labor costs and additional activities needed for this particular project. Those transportation, labor and site-specific costs increases also drove the price for removing mixed glass from 9 cents per pound in 2016 to 10.25 cents per pound, Bolon wrote.
Novotec's bid proposal is not a formal agreement with Garrison Southfield Park, but it indicates the parties will work to draft a formal deal based on its terms and conditions.
How Novotec plans to manage the material
In his bid proposal, Bolon wrote that he anticipates his facility will process some of the CRT devices for recycling. Novotec's Columbus facility, which is only a six-mile drive from the warehouses, disassembles display devices and processes CRT glass into a feedstock desired by smelters.
The company previously served as the primary pipeline sending leaded CRT glass to Glencore's smelter in New Brunswick. After Glencore shut down that facility late last year, Novotec inked agreements to supply the Teck smelter in Trail, British Columbia and Korea Zinc smelter in Ulsan, South Korea.
Bolon's proposal noted that his company has relationships with a variety of approved service providers (ASPs), or downstream options, for this project.
"Each ASP has different processes and services that will dispose of and/or recycle the Subject Material, and each ASP has different price structures and costs," Bolon wrote. "Novotec will provide Garrison with pricing and details on the options for using the different ASPs, and Garrison shall choose which ASP they wish to utilize, as appropriate, and based on consultation with Novotec."
Bolon's bid stated that price quotes for intact units and unprocessed CRTs are based on Novotec processing them, he said. The unprocessed CRTs, which consist of tubes stripped of valuable metals, would be bound for landfill disposal, because recycling is not economically viable.
When it comes to the mixed funnel/panel glass totaling over 113 million pounds, Bolon wrote that the quote of 10.25 cents per pound is based upon the lowest-cost downstream option, although his bid proposal didn't specifically identify the option. Bolon declined to comment to E-Scrap News for this story.
The records show that, for years, prospective contractors have suggested that landfill would be the best option for handling the mixed glass at the site.
During the 2016 round of bidding, the top three bidders – Novotec, URT and Madison, Wis.-based Hazardous Waste Experts – all suggested either disposing of crushed glass in a hazardous waste landfill or treating it and disposing of it in a municipal waste landfill.
At one point, Novotec was also exploring the possibility of sending the crushed glass to Camacho Recycling in Spain for use in ceramic tile manufacturing. A competitive downstream option in terms of price, Camacho received substantial amounts of CRT glass from the U.S. and other countries before it suspended shipments in fall 2018, when Spanish regulators decided they wanted Camacho and its tile-making customers to obtain hazardous waste permits for using CRT glass.
But even before it stopped taking glass, Camacho noted it didn't want the Closed Loop material, according to EnSafe's report. Novotec relayed that Camacho wasn't interested because Closed Loop hadn't properly sorted the material during initial processing and glass crushing, leaving a mix of leaded and unleaded glass with some plastic and metal fragments.
Jared Paben is the associate editor of E-Scrap News and can be contacted at jared@resource-recycling.com.