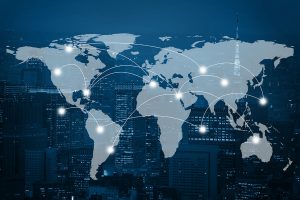 The establishment of a partner network is allowing Dynamic Lifecycle Innovations to service customers globally without requiring the U.S. company to own and operate overseas facilities.
The Onalaska, Wis.-headquartered ITAD and e-scrap recycling company on April 1 announced it had established a global partner network with a presence on all continents. According to a press release, Dynamic is working with seven companies that operate a total of 68 foreign facilities.
From a multinational e-scrap generator's perspective, the behind-the-scenes arrangement offers a single point of contact for ITAD and recycling services performed in multiple countries. Dynamic handles communication with customers, including price quotes, billing and reporting. The company also coordinates with the overseas partners, who collect and process material locally.
"To our clients, it's seamless," said Miranda Monahan, global director of technology partners at Dynamic.
Building a network
In establishing the network, which serves over 100 countries, Dynamic sought to partner with companies that meet a number of criteria. Dynamic conducted an auditing and vetting process to find companies that have R2- or e-Stewards-certified facilities, can meet Dynamic's internal standards and are able to satisfy customer requirements, said Casey Dingfelder, Dynamic's vice president of ITAD.
Dynamic's tools to verify partners' compliance include requesting and checking paperwork, conducting on-site audits and deploying device tracking units, Dingfelder said.
The list of companies around the world meeting Dynamic's requirements wasn't large, Monahan said. Dynamic sought to limit the number of partners because it wanted to work with the same companies and make the arrangement fruitful, she said. Dynamic and the partners share the revenues.
The network allows customers to avoid requesting bids on different continents and having to work with a number of vendors. It also gives customers a level of accountability, because Dynamic is doing the compliance work behind the scenes, Monahan said.
"Our customers in the United States have come to expect a level of service. They've come to love our certifications and who we are internally and our internal standard providing an overall risk-management program for them," Monahan said. "What we wanted to do is extend those same values in working with Dynamic to the world."
Strategy for footprint expansion
Partnering with foreign companies is one strategy for U.S. processors to enter overseas markets relatively quickly. For example, last year, Fresno, Calif.-headquartered ERI partnered with Dubai, United Arab Emirates company Enviroserve. The deal allows ERI to reach clients in the Middle East and Africa.
Dynamic, which owns and operates two U.S. plants, works with 14 domestic facilities to form a U.S. service network. Before Dynamic's recent announcement, the company also had minor partnerships in place outside the U.S., Dingfelder said, but they covered fewer geographies and service was provided on more of a one-time-project basis.
Monahan said she sees a trend of more companies issuing worldwide RFPs for ITAD and recycling services. To Dynamic, partnering seemed like the best and quickest way to go to market, she said.
"We're not reinventing the wheel. There are some very good companies out there that we've decided to partner with," she said. "And our customers are very happy with the service that we've been able to provide them."
Photo credit: Pushish Images/Shutterstock

More stories about processors