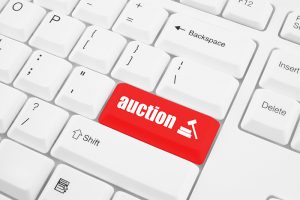 Machinery at the shuttered BlueOak Arkansas e-scrap smelting plant is being auctioned off late this month.
Furnace components, a shredder and a host of other equipment at the BlueOak facility in Osceola, Ark. will be sold in a March 28 online auction conducted by Maynards.
According to a brochure announcing the auction, the equipment for sale includes an SSI shredder, hammer mill, numerous furnace components, cranes, air compressors, scales, dust suppression machinery and more.
BlueOak Arkansas, which housed a plasma furnace for smelting circuit boards, closed last year. It had been in development since 2014. The facility was nearing completion on its plasma furnace in mid-2017 and even signed a contract to receive all printed circuit boards (PCBs) processed by Cohen Electronics (now called Cobalt).
But by late-2017 and early the next year, rumors were spreading through the industry that the facility would be closing down. E-Scrap News first reported on the closure in late 2018, and local news outlets soon followed. Although company officials wouldn't comment to E-Scrap News, BlueOak Arkansas CEO Ahab Garas told a local newspaper in mid-November the company was still planning to recycle electronics in Osceola but admitted the facility had not met the targets it set out initially.
It's still unclear what exactly caused the company to close its doors, but it did face technical difficulties. A lawsuit is ongoing between the furnace supplier, Tetronics, and BlueOak's insurance provider. The case stems from a 2015 incident in which the plasma furnace malfunctioned during testing, causing a catastrophic failure. BlueOak received $10.5 million in insurance payments and continued development.
Meanwhile, records show the facility required multiple service calls in 2018 over malfunctioning furnace components. According to service reports, the plasma furnace experienced ignition problems and repeatedly failed to light. Equipment described in the service reports is also listed in the auction advertisement.
The BlueOak Arkansas website has been shut down. An email address for Garas, the company CEO, is also no longer active. E-Scrap News calls to BlueOak Resources, parent company of the Arkansas operation, were not returned. BlueOak Resources CEO Privahini Bradoo did not return an email seeking information about the auction and facility closure.
Maynards, the auction company, told E-Scrap News the auction was not brought on by a court order or receivership.
BlueOak previously had an agreement with Cohen USA to receive all of Cohen's shredded circuit boards. Cohen Vice President Adam Dumes told E-Scrap News the contract ended before the facility closed.
"We had an agreement to supply all the scrap during a recommissioning period, which we did and were paid in full for," Dumes said in an email. "After that they shuttered the furnace and we went back to selling to other smelters we have contracts with."
Photo credit: Evlakhov Valeriy/Shutterstock

More stories about processors