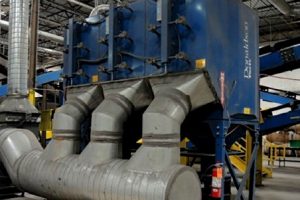 Shredding, sorting and processing machinery that was used by shuttered processor ECS Refining is being sold via an online auction.
An auction house has listed for sale equipment used at ECS' former Mesquite, Texas location, a 230,000-square-foot facility that opened in 2012 and processed tens of millions of pounds of business and consumer electronics.
That location, and other ECS facilities across the country, shut down with the company's closure in June 2018. Last year, ECS voluntarily filed for Chapter 11 bankruptcy amid bitter disputes between company owners and SummitBridge National Investments V, which owns $26 million in ECS debt.
In Texas, the equipment to be auctioned includes an e-scrap recycling system made up of shredders, a screen, eddy current separators, an optical sorter, conveyors, dust collection systems and other pieces of equipment. Additional items for sale include CRT processing and glass sorting equipment, balers and forklifts. A press release issued today has more details on available equipment.
A preview, when potential bidders will get a chance to see equipment first, is scheduled for Jan. 22. The bidding closes Jan. 24. It is being conducted by Dallas auction house Rosen Systems, which, in its October proposal letter to SummitBridge, estimated the sale could bring in $500,000 to $650,000.
This isn't the first time ECS assets have been auctioned. Last summer, Wisconsin-based processor Dynamic Lifecycle Innovations purchased ECS' customer list and some of its inventory during a courtroom auction. The case is in U.S. Bankruptcy Court for the Eastern District of California, Sacramento Division.
Wrangling over remaining assets
ECS had a nationwide presence, with locations in Arkansas, California, Ohio, Oregon and Texas. Equipment remains at its three former processing facilities: Stockton, Calif., Mesquite, Texas, and Santa Clara, Calif. All leases have been cancelled.
The Mesquite and Stockton facilities sit on land owned by ECS Big Town LLC and Sinclair Partners LLC, which are managed by Ken Taggart. Ken and his brother, Jim Taggart, founded ECS Refining in 1980.
A year ago, ECS estimated all of its equipment had a gross liquidation value of $3 million to $4.5 million.
The Texas auction moved forward after bankruptcy court Judge Robert Bardwil on Nov. 15 gave the go-ahead to SummitBridge to pursue the Texas equipment outside of bankruptcy proceedings. SummitBridge, which holds a security interest in the equipment, on Nov. 21 filed papers in Dallas County District Court in Texas, seeking to appoint a receiver. The state court judge that same day appointed the receiver, who is arranging the equipment sale and will provide SummitBridge the sale proceeds.
Legal jockeying continues over remaining equipment in Stockton and Santa Clara. Kimberly Husted, the current trustee in what's now a Chapter 7 bankruptcy case, asked Judge Bardwil for permission to abandon control of all remaining equipment. Calling it "underbrush" in the case, Husted's attorney wrote that the equipment and machinery are of no value to ECS' estate, noting they have "environmental strings attached."
In court papers, the Taggarts have supported the trustee giving up responsibility for the Stockton equipment. But an attorney for Forsyth-Bolin Property Management LLC, which owns the Santa Clara property, opposed the request and accused the trustee and SummitBridge of attempting to dump the environmental cleanup obligations on the landlord.
Photos of equipment courtesy of Tiger Group.

More stories about courts/lawsuits