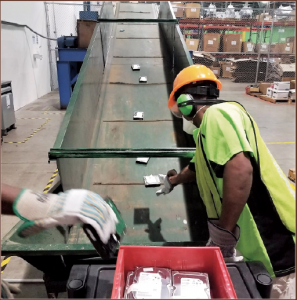 R2 Corporation was still a new face in Houston when Hurricane Harvey struck Texas's largest city about a year ago, bringing with it devastating flooding. But that didn't stop R2 Corporation from going above and beyond to help.
The electronics recycling firm opened its facility to first responders and victims of the disaster, later earning public recognition from Houston leaders.
R2 Corporation (not to be confused with the R2 certification standard) provides IT asset disposition, reverse logistics and recycling services. Launched in Austin in 2000, the company has a combined capacity of about 6,500 tons per year at its Texas sites, although its current throughput is about 3,400 tons per year.
With about 60 employees total, the company uses a manual processing approach, handling a wide variety of devices, even handling clients' office furniture. For physical destruction of data-bearing devices, R2 Corporation uses both a truck-mounted and a fixed in-house shredder. For data-wiping hard drives, the company uses software from Extreme Protocol Solutions (EPS).
The company's clients include large corporations, including major OEMs. Services offered include auditing, testing, repair, data wiping and data destruction, asset management, remarketing and environmental services. The company has mechanics on staff for soldering and repairing ball grid arrays.
"We are engineering-certified to evaluate and repair parts to OEM refurbished standards," according to the company. And soon, the company will acquire a paint booth for refurbishing scratched plastic surfaces.
l Founded by CEO Ed Garcia, R2 Corporation emphasizes its ability to provide comprehensive services.
"There are companies that focus on the ITAD arena for resale, companies that focus on repair, companies that focus on recycling," company leaders wrote. "What R2 Corporation provides for its clients is a complete 360-degree solution for managing electronics and electronics waste."
More than a year ago, when Hurricane Harvey struck Texas, R2 Corporation also provided comprehensive help to those in need. At the time, it was still new in town. The company signed a lease for its Houston space in July 2017 and was scheduled to begin processing on Sept. 4, 2017. But the hurricane made landfall in late August.
According to the Houston Chronicle, Robert Erwin, vice president of business development for R2 Corporation, had borrowed a boat so he could rescue people trapped by the rising floodwaters. While doing so, he got to know members of the Harris County Sheriff's Office and told them about his available warehouse space. The sheriff's office then began directing out-of-town first responders to R2 Corporation's warehouse for housing and boat storage. A vendor donated fuel for their use.
Later, the firm offered the 81,000-square-foot space to local chapters of the International Brotherhood of Teamsters, who used it to bring in and distribute relief supplies. Other groups using the space during the relief efforts included Houston Mayor Sylvester Turner's office, Unicef and the National Association of Christian Churches (NACC).
Erwin and Steve Coffman, operations and inventory manager, were the two key staff members during the relief work.
But Mother Nature wasn't done wreaking havoc, and R2 Corporation wasn't done helping. On Sept. 20, Hurricane Maria stuck and devastated Puerto Rico. In response, R2 Corporation gathered emergency supplies for island residents, loading up two Boeing 767s, one 747 and one McDonnell Douglas MD-11.
The aircraft took the supplies to the U.S. territory.
For about two months, the R2 warehouse was a hive of activity, with people working 12 or more hours per day, seven days a week. For the company's efforts, Mayor Turner and the City of Houston proclaimed Dec. 14 "R2 Corporation Day."
This article originally appeared in the Fall 2018 issue of E-Scrap News. Subscribe today for access to all print content.
Do you know of a processing company that should be featured in this column? Email news@resource-recycling.com.