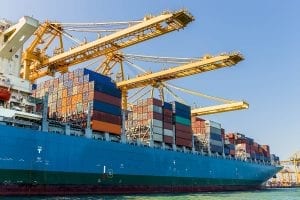 Camacho Recycling, a huge consumer of CRT glass from the U.S. and Europe, has suspended acceptance of material amid a regulatory dispute with Spanish authorities.
The Albacete, Spain-based glass recycling company informed customers in early October it has temporarily suspended acceptance of glass.
Camacho processes both leaded and unleaded glass from CRTs for use in ceramic tiles. The company has accepted material from U.S. e-scrap companies for the past three years, growing to become a major overseas user of both sorted (leaded funnel glass separated from unleaded panel glass) and unsorted material.
Of the e-scrap companies that currently have U.S. EPA approval to export whole CRTs, broken CRTs or unsorted glass, almost all have pointed to Camacho in Spain as the destination. According to the U.S. EPA, which was not officially notified about the recent disruption of shipments to Camacho, U.S. exporters sent Spain 17,700 U.S. tons of CRT glass in 2017 and 12,900 U.S. tons in 2016. The EPA does not track numbers for glass that's been processed before export.
In 2016, Camacho reported it could consume more than 110,200 U.S. tons of CRT glass per year.
Shipments halted
Early in October, J.J. Santos, Camacho's international manager of waste electrical and electronic equipment, notified customers of what he called a temporary suspension of shipments.
In an email to E-Scrap News, Santos said Spain's national environmental agency, the Ministry for Ecological Transition, wants Camacho and its tile manufacturing customers to obtain hazardous waste permits for using materials from CRTs. The decision is not final, Santos noted, and Camacho has been in discussions with the ministry on the issue.
"Hopefully it will be solved and we will resume CRT glass loads again," he wrote.
In his notice to customers, Santos said the tile industry doesn't want to have to fulfill all the requirements and paperwork required of waste managers and would rather use virgin materials, as has been done for years.
The disruption was first announced publicly at the E-Scrap Conference in October in New Orleans. Kelley Keogh, a partner at training and auditing firm Greeneye Partners, told attendees during a session focused on challenging materials that the regulatory issue was disrupting that downstream for CRTs.
"We see this situation where we have an opportunity to get this material back into the stream and actually use it as a resource to keep from depleting other resources, but because of regulatory issues that waste stream right now is sort of on hold," she said.
The stoppage could impact regulated recycling programs in a number of U.S. states. Ripple effects could include alternative outlets becoming overwhelmed with material, according to a statement from Minnesota Pollution Control Agency's electronics recycling program staff. The Minnesota agency issued the statement in an email to E-Scrap News this week.
"The suspension with Camacho has a projected impact for recyclers receiving material from Minnesota households," the agency noted. "There are other allowable options, such as ceramics in Brazil and lead smelting. But, these need to be monitored in case they get overwhelmed as the market adjusts, as we don't fully know how an influx of materials will affect operations. In addition, we are open to other possibilities for the glass, as long as they meet our requirements."
Supplier perspectives
Nationwide processor ERI has received U.S. EPA approval to send CRTs from three of the company's facilities to Camacho. In a statement to E-Scrap News, Aaron Blum, ERI's co-founder, chief operating officer and chief compliance officer, said ERI isn't currently impacted by the disruption because it has other downstream options for glass already established.
"We do hope that the Spain EPA can reconsider their current opinion and change the classification of recycled glass in the near future, which would hopefully allow that market to open up again," he said. (He and other sources referred to the Spanish environmental ministry as the Spanish EPA.)
He added, "This scenario is actually nothing new for recyclers of CRTs. The market has been dwindling down for years and we have continued to successfully find legitimate outlets for glass."
Universal Recycling Technologies (URT), which is headquartered in Wisconsin and has processing facilities across the U.S., was the first U.S. processor to send leaded funnel glass to Camacho and, until the recent suspension, was one of the top CRT glass suppliers to Camacho. It has shipped Camacho glass from each of its four processing locations in the U.S.
Jeff Gloyd, URT's vice president of sales and marketing, told E-Scrap News his company is treating the suspension as a final decision by Spanish authorities. While Camacho has been a strong partner, URT has also established relationships with North American lead smelters to hedge against disruptions in outlets, shipping or prices for CRT downstreams.
"In order to really make it a non-issue, we need to have our own solution and/or relationships with multiple downstream quality vendors and partners that allow us to move material with very little impact to costing or pricing with our customers," he said.
Gloyd said he hope it turns around and Camacho begins accepting glass again. If it does, URT could continue sending it material from a couple of its U.S. facilities.
"If Spain EPA decides to revert back to the old way of doing business, I think it'll be beneficial to a lot of U.S. processors," he said.
Photo credit: peresanz/Shutterstock
More stories about CRTs