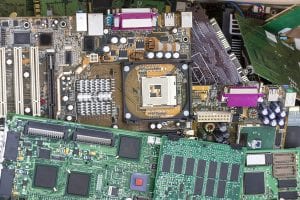 The total weight processed by Sims Recycling Solutions went down last year, likely the result of a changing electronics stream and shifting business focus, an executive said.
Sims Recycling Solutions (SRS) is the electronics recycling and ITAD arm of Australia-based metals recycling giant Sims Metal Management. Last year, SRS brought in about 12 percent of Sims Metal Management's revenue.
SRS recently released its annual report reflecting back on the 2018 fiscal year. Last year, the company processed 430,000 metric tons of material, down from 447,000 metric tons processed the year before.
"It's a function of the form factor changing and also the changing in our business," Sean Magann, SRS' vice president of global sales and marketing, told E-Scrap News.
The CRT glut is waning, and a growing number of small mobile computing devices are entering the stream while larger PC are decreasing. Meanwhile, over the past few years, SRS has shifted away from volume-based recycling accounts and toward value-added service in the ITAD realm, Magann said.
He pointed to last year's financial returns as a positive indicator. E-Scrap News reported in August the company had earnings of 25 million Australian dollars ($18.3 million) in its 2018 fiscal year, up 24 percent from prior year.
"It was one of the best years since I've been with the company," said Magann, who has been at SRS since 2011. While it's in the industry's DNA to see fewer pounds processed as a negative, "we're not paying the rent with pounds. We're paying it with money," he said.
In the annual report, SRS noted higher metals prices also gave the company a boost last year. Specifically, copper prices were up 25 percent and average gold prices were up 3 percent over the previous fiscal year.
According to the 2018 report, SRS reported that the regulatory environment in the European Union, where most of the company's facilities are located, remains supportive of the industry. "In addition, data security concerns are having a meaningful impact on large corporations seeking secure recycling services," the document notes.
SRS has facilities in the following countries: Australia, Austria, Belgium, Czech Republic, Dubai, Germany, India, Ireland, Netherlands, New Zealand, Norway, Poland, South Africa, Singapore, Sweden, the U.K. and the U.S.
Photo credit: haraldmuc/Shutterstock

More stories about processors