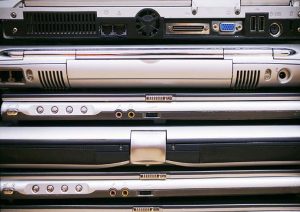 A committee at the Institute of Scrap Recycling Industries has begun a project to write specifications for electronics destined for repair and reuse.
The ISRI Electronics Division's specifications committee has met to outline how it plans to proceed with writing specifications for working used electronics. The aim is to develop guidelines for functionality and cosmetics.
The first focus will be on desktop computers, followed by monitors, laptops, servers, networking equipment and mobile devices.
"As we delve into these more complex systems, ISRI Specs Committee anticipates working with other trade associations and interested industry groups to develop these specifications in conjunction with their ongoing efforts," according to the ISRI e-scrap newsletter. "The Specs Committee feels we can bring better clarity working with interested parties on a variety of equipment where they may have great insight and needs."
ISRI already has commodity-grade specifications, which have been updated over the years to keep up with changing market conditions. But for devices meant for reuse, there is not an accepted national or international grading standard, said Joe Clayton, vice president of business development at ITAD company Arcoa Group and a member of the specifications committee.
Currently, each company or trader develops their own standards, which results in uncertainty and added costs in the marketplace, he said. For example, to one company, Grade A may mean no scratches longer than one inch or deep enough to catch a fingernail, but to another it may include busted and cracked housings.
"By developing a comprehensive set of requirements for functionality and cosmetics, ISRI believes that trade will increase and the playing field will be level by having everyone buying and selling on a set of standards that (are) known and audited," Clayton said.
George Hinkle, president of Arcoa Group, described the reuse specifications effort to E-Scrap News in an interview in June. That was shortly after he took over as chairman of ISRI's e-scrap committee.
Photo credit: Ivan Hafizov
More stories about industry groups