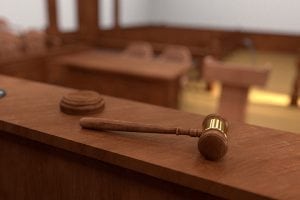 A CRT recycling company owner has asked a judge to withdraw his plea of guilty to federal criminal charges.
Kenneth Eugene Gravitt, who owns now-bankrupt Global Environmental Services (GES), pleaded guilty in May to conspiracy and hazardous waste charges. Because of the guilty plea, prosecutors dropped six other counts against him.
GES closed in 2015 after a CRT burial scandal. Prosecutors charged Gravitt with crimes related to management of CRTs at GES facilities and illegal disposal of leaded glass, both in a landfill that isn't permitted to accept hazardous waste and in a large hole behind GES headquarters in Georgetown, Ky.
Gravitt's guilty plea came on May 7, the same day his trial was scheduled to begin in U.S. District Court for the Eastern District of Kentucky.
In a June 25 court filing, Gravitt's attorneys asked the judge to set aside his guilty plea and proceed to a trial. They cited a number of legal reasons the request should be allowed.
In an affidavit, Gravitt said he came to court May 7 prepared to seek his innocence by jury, but he pleaded guilty, in part, out of fear, panic and the hope that his wife, who was in tears in the back of the courtroom, could find some peace. "Her emotion evoked an overwhelming need, for her sake, to simply get this ordeal over and behind me," he said.
Gravitt also wrote that he suffers serious health problems and was terrified of the possibility of being found guilty at trial of all eight counts and receiving a lengthy prison sentence, which he feared could kill him.
He also said he didn't feel the reality and gravity of the charges until entering the courtroom the day of trial. "The enormity of the huge courtroom and ominous authority of the situation compelled me to do anything to just make it go away," Gravitt said. "It was not until I left the courtroom and began the drive back home to Texas that I realized I had made a terrible mistake."
The U.S. Attorney's Office is opposing the request.
"Gravitt is well-educated and a long-time businessman and chief executive officer, accustomed to processing difficult decisions involving the balancing of competing interests," they wrote. "He certainly understood the implications of his choice to change his plea to guilty."
The most compelling argument against his request is that it would result in substantial prejudice to the government's prosecution, they wrote. That would come in the form of additional costs, inconvenience to and frustration from government witnesses, and scheduling conflicts. Noting that the case isn't as simple as a "hand-to-hand drug buy case," the U.S. Attorney's Office wrote that it involves numerous witnesses, including some out of state; complicated environmental tests; and an extensive audit history.
In their court filing, the U.S. Attorney's Office says evidence shows Gravitt had a change of heart about standing trial hours, if not days, before entering the courtroom, and it wasn't about a momentary panic arising from his wife's distress.
"The defendant's maneuvering appears to be strategic and calculated to thwart the Government's preparation and prosecutorial momentum," they wrote.
In a July 12 response filed in court, Gravitt's attorneys disputed that.
"Mr. Gravitt is not attempting to 'game' the system," they wrote. "In light of his undisputed health condition, age, and lack of experience in the criminal justice system, his supporting affidavit contains the ring of truth."
A judge has yet to rule on the request. Gravitt's sentencing is currently scheduled for Sept. 6.
Photo credit: 3drenderings/Shutterstock
More stories about courts/lawsuits