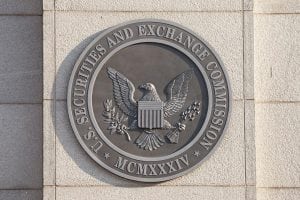 The U.S. Securities and Exchange Commission has sued the former CEO of E-Waste Systems, alleging fraud and other violations of federal law. The federal agency settled separate enforcement actions against two other people involved with the company.
Formed in 2011, E-Waste Systems (EWSI) was publicly traded on the over-the-counter stock market and had some presence in California, Ohio and New York but closed in 2015. The Securities and Exchange Commission (SEC) last year suspended trading of EWSI stock, and registration of the securities has since been revoked.
The SEC on May 24 filed a lawsuit against Niel Martin Nielson in U.S. District Court in Washington, D.C. The lawsuit alleges fraud; falsified books, records or accounts; deceit of auditors; false certifications; and other violations of securities law.
Also on May 24, the SEC filed a lawsuit against Carolyne Susan Johnson, described as a one-time corporate secretary and treasurer of EWSI. The commission alleged fraud or deceit in connection with the sale of securities, other violations of securities law, and aiding and abetting Nielson and EWSI in violating federal law. She recently settled the case.
Another man involved with EWSI, Edward F. Panos of Park City, Utah, reached a settlement with the SEC in December 2016. The commission had filed a lawsuit against Panos accusing him of working to artificially inflate the value of EWSI stock, which he then sold for a profit. In the lawsuit against Johnson, the SEC said Panos "made a career out of creating fraudulent shell companies, taking them public, and selling them to private entities for hundreds of thousands of dollars." He agreed to pay more than $3 million to settle the case.
In a separate action, the SEC issued an administrative order on May 24 against Arthur Kaplan of Westerville, Ohio. The commissioned alleged Kaplan, described as an executive assistant to Panos, helped support the EWSI and other schemes.
The SEC issued a press release about the cases on May 25.
Nielson case
The SEC made allegations regarding artificially inflating stock value in its latest lawsuit against Nielson.
"Nielson, who was the CEO, President, and sole director of EWSI, issued frequent false and misleading statements in press releases and public filings to create the false impression that EWSI was expanding quickly across the world and, by mid-2013, earning millions of dollars in revenues each quarter," according to the civil action. "The reality was that EWSI had no or virtually no operations at any point in time. The vast majority of its agreements with third-party recyclers and other companies had no economic substance, and some of the subsidiaries through which EWSI supposedly was conducting business were dormant or had yet to be formed. Those agreements generated no revenue for EWSI ever."
The SEC claimed Nielson sold millions of EWSI shares, "profiting from the artificially increased share price and volume and causing harm to innocent investors."
The SEC action asks the judge to order Nielson give up the proceeds of his illegal conduct and pay civil penalties. Additionally, it seeks to have him barred from directing the issuance of any securities registered with the SEC and prohibited from participating in any penny stock offerings.
Court records show a summons hasn't been issued to Nielson, whose address was listed in London.
Johnson settlement
The lawsuit against Johnson claims she was first introduced to Nielson by Panos. The SEC's action wasn't just related to her role at EWSI; it also alleged illegal actions in her role as self-named head of T&G Apothecary, a shell company that purported to be developing personal care products for women.
In connection to EWSI, Johnson, who lives in Cincinnati, helped Nielson create the impression the company was expanding rapidly and growing revenue. The SEC claimed she helped EWSI claim revenue from a purported business in China.
"EWSI reported the revenues of certain entities in China (the "China Companies") as its own based on sham contracts that did not reflect the true relationship between EWSI and the China Companies," according to the lawsuit. "EWSI paid the China Companies for the benefit of reporting their revenues as its own, despite EWSI having no relationship with the China Companies beyond this payment-for-revenues scheme."
Johnson also sold her EWSI stock at artificially inflated prices, the commission alleged, profiting by more than $150,000.
As part of her settlement, which was approved by a judge on June 6, she neither admitted nor denied the allegations. But she is barred from overseeing the issuance of any securities registered with the SEC, involvement with any penny stock offering or getting paid by any company that files with the SEC.
The judgment also makes her liable for paying more than $238,000, but based on her financial condition, the court isn't ordering her to pay the money.
Kaplan deal
In an order, the SEC alleged Kaplan worked with Panos on schemes connected to companies called Arthur Kaplan Cosmetics and Plantation Exploration, as well as T&G Apothecary and Dragon Beverage (which later became EWSI).
In his administrative settlement with the SEC, Kaplan neither admitted nor denied the allegations of illegal activity. The settlement prohibits him from any future violations of securities law, but it does not impose any fines. That's because he's cooperating in a commission investigation and/or related enforcement action, the order states.
Photo credit: Mark Van Scyoc/Shutterstock
More stories about courts/lawsuits