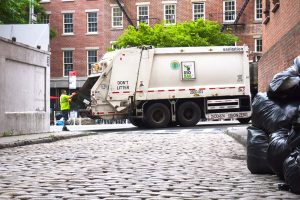 Curbside garbage and recycling audits show the amount of e-scrap improperly disposed by New York City households has dropped substantially in recent years.
The New York Department of Sanitation (DSNY) last month released results of its 2017 waste characterization study, which involved categorizing and weighing items found in household garbage and recycling streams.
Used electronics generally make up a small fraction of any city's garbage weight, which is usually heavy on food scraps and other materials. But city officials called out electronics because of the hazardous substances they contain. They noted that improperly disposed e-scrap has decreased by 60 percent over the past four years.
In their report, DSNY officials attributed the decrease New York's e-scrap disposal ban, the city's electronics collection programs, and a lighter-weight end-of-life stream resulting from fewer CRT devices.
What the numbers showed
City officials calculated what percentage of the "aggregate discards" from households was made up of electronics. "Aggregate discards" refers to the garbage, recyclables and organics streams. Electronics are not supposed to be included in any of those streams. DSNY calculated the following numbers for scrap electronics:
2005: 0.64 percent of total weight
2013: 0.89 percent
2017: 0.34 percent
DSNY broke down which categories of devices made up the 2017 number. Of the total sampled last year, 44 percent was audio/visual equipment and cell phones, 41 percent was other computer equipment, 9 percent was computer monitors, and 6 percent was TVs.
The study also looked at the per-household weight of electronics in the aggregate discards. It found 6.8 pounds per household in 2017, down from 17.8 pounds in 2013 and 14.6 pounds in 2005.
The auditing was done in partnership with the city's recycling vendor, Sims Municipal Recycling,  and it was conducted by Mid-Atlantic Solid Waste Consultants (MSW Consultants).
A host of programs
DSNY's reported attributed the decreases to the success of electronics collection and recycling programs. In 2010, statewide legislation to create a manufacturer-funded electronics recycling program was signed into law. The law took full effect in April 2011. Starting in 2015, disposal of certain types of electronics equipment became illegal statewide. In the first couple of years of the program, New York City reported a significant under-collection of material, according to a report from state regulators. They noted that housing and transportation in the city of more than 8 million people make convenient collection difficult.
In response, DSNY took steps to provide convenient collections. Today, the Big Apple runs a number of  e-scrap collection efforts. Its ecycleNYC program offers free collection at apartment buildings of 10 or more units. DSNY also operates a curbside collection service on Staten Island and in parts of Brooklyn. In addition, DSNY runs citywide collection events and drop-off locations.
E-scrap processor ERI, which recycles electronics collected through city programs, issued a press release on May 15 touting the success of the programs. It noted that 3.1 million New Yorkers are now served by the ecycleNYC and curbside programs.
"It is particularly rewarding to be able to offer NYC residents a suite of programs, such as ecycleNYC and the curbside pickup program, which are advancements that make responsible, effective recycling of electronic waste convenient for millions," John Shegerian, chairman and CEO of ERI, stated in the release. "To have played such a distinct role in diverting 60 percent more e-waste away from the trash compared to only a couple years ago is a humbling and rewarding experience."
Photo credit: BravoKiloVideo/Shutterstock
More stories about local programs