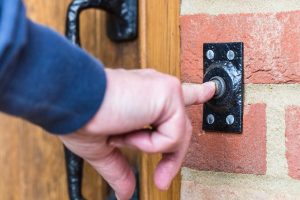 Households may like the convenience of leaving used electronics at the curb for collection, but doing so can give scavengers the opportunity to grab devices and any sensitive data they may hold. A new company is trying to solve those problems in areas around Philadelphia.
In February, Curb My Clutter (CMC) began serving a Philadelphia suburb with an on-demand collection service for used electronics and textiles. It is adding new communities and expects its service area to include 100,000 homes by June.
"There's a significant opportunity for us to extract additional value out of the households," said Bob Anderson, the company's vice president of business development. "Our goal is to try to mine the sequestered assets that are laying latent in households and repurpose them into the circular economy."
Anderson recently spoke with E-Scrap News about how CMC's service goes beyond the drop-off strategies the e-scrap industry largely relies on today to acquire residential material.
Curbside collection (sort of)
CMC is not the first curbside service for scrap electronics. In fact, it's small potatoes compared with the Big Apple's program. New York City in October 2016 launched on-demand curbside collection of electronics on Staten Island, and the program has been growing to other areas of the city. It also has a robust program for collecting material at apartment buildings.
In New York City, residents go online and schedule pick-ups from city sanitation department crews, who collect electronics at the street. But CMC uses software allowing residents to text "pickup" to a phone number to register and schedule a pick-up. The software allows them to request a pick-up at their door, so they don't have to leave data-bearing devices on the curb.
"We're not really doing curbside in the sense that I want it sitting at the street," Anderson said. "We're actually going to the door or we're going to the garage and that's where we're picking the material up. I don't want it down at the curb, because I don't want it to get scavenged."
When residents schedule a pick-up, they're asked to provide descriptions and photos of the items to be collected. Providing pictures unlocks rewards such as store discounts and gift cards. The information helps CMC optimize collections and understand exactly what it'll have available to sell to an e-scrap processor. CMC's website lists national e-scrap firm ERI as its partner.
"On any given route day, we'll know whether we have a positive-value route day or one that's a little bit challenged," Anderson said.
Adding communities
Software work was started in 2016 at the direction of Ron Gonen, co-founder and CEO of Closed Loop Partners, a group that invests corporate money in the U.S. recycling system. Closed Loop Ventures, an arm of Closed Loop Partners, first announced in March 2017 it had invested in CMC. Anderson, who has decades of experience with recycling companies and has served on a number of industry boards, joined CMC in spring 2017.
In March 2017, CMC began a pilot program with an independent hauler serving communities in the Philadelphia area. It gave CMC a chance to debug and hone the software.
The company's first municipal partner, Woolwich Township, N.J., came on board in February 2018, Anderson said. Other New Jersey communities will begin service this month: Gloucester Township on May 14 and the city of Westfield and Swedesboro Township on May 21. All are within a half-hour drive of downtown Philadelphia, except for Westfield, which is located in northern New Jersey closer to Newark.
Anderson said current partner municipalities are receiving a share of revenue from materials sold, and they're enjoying landfill avoidance benefits and any increased grant money available in their state (New Jersey allocates grant funds to municipalities based on their past recycling performance).
"The current programs are structured for Curb My Clutter to gain insight into our program and test community engagement tools," Anderson said. "We are harvesting a lot of valuable information on how residents in a community use the program."
In the future, municipalities will pay a fee to CMC for each successful pick-up. Additionally, CMC will continue to bring in revenue from material sales.
What it's collecting
So far, by weight, about 70 percent of what's been collected is electronics and 30 percent textiles, Anderson said. The majority of pick-ups involve some number of items in both categories. CMC's service is free to residents except for TVs. It charges $35 to take a standard TV.
In terms of electronics, many computers and related equipment have come in, along with some TVs, he said. But only a few mobile phones and no tablets have been collected.
With a half-dozen total employees, CMC currently owns trucks and employs drivers for collection.
"Our future plans are to contract collection services and leverage collection assets that are already available and underutilized," Anderson said. "At this early stage, it's important for CMC to control the entire customer experience. Curb My Clutter is committed to understanding our systems and products before we release those responsibilities to any third party."
Photo credit: Christine Bird/Shutterstock
More stories about collection