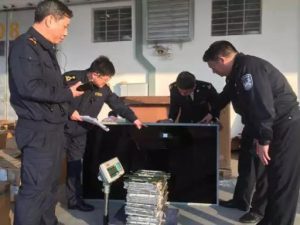 Customs officers in China's port city of Xiamen seized a load of end-of-life electronics last month, claiming the material didn't meet e-scrap import standards.
The country's General Administration of Customs reported last week on a load of 7.4 tons of LCDs that had been seized by agents in March. Authorities described the devices as "unusable wastes that are not worth repairing." That means they were classified as solid waste that's banned from import.
Many of the LCD devices had broken screens, according to the press release, and most of them were seven or eight years old. They were sent to the customs agency's anti-smuggling department for further investigation.
"This case marked the first seizure of solid electronic wastes inbound to Xiamen this year," according to the release.
Customs officials did not disclose details on where the shipment originated.
More stories about Asia