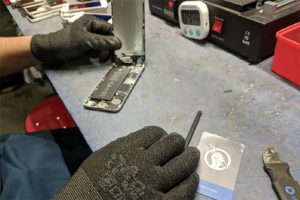 Most e-scrap managers know not to shred mobile devices that contain lithium-ion batteries. But it turns out fires are a threat even when disassembly procedures are utilized.
In a recent webinar hosted by the U.S. EPA, e-scrap facility operators joined representatives from industry groups and a regulatory agency to talk about the ongoing lithium-ion (LI) battery challenge and offer some tips to avoid facility accidents.
They covered dismantling techniques, regulatory compliance and the difficulties of dealing with a constantly changing product stream, where no two battery removal methods are the same.
"The variety is one of the biggest challenges that we have," said Neil Peters-Michaud, CEO of Cascade Asset Management, which is headquartered in Madison, Wis. and also runs a site in Indianapolis.
He was joined on the webinar by Craig Boswell of HOBI International, Kevin Leary of the U.S. Department of Transportation, George Kerchner of the Rechargeable Battery Association and Chris Coady of The Recycling Partnership.
Processors describe technique
Smartphones and other devices with LI batteries have to have the battery removed before they can be sent into the shredder stream. Such disassembly takes time, the facility operators said.
For years, consumer electronics were made with consumer-replaceable LI batteries as the norm, Boswell said. But now, producers have migrated "almost 100 percent away from consumer-replaceable batteries," he noted. That means devices are not designed with battery removal in mind, and are even designed against it.
The iPhone 6 is an example: It is manufactured with what's called an "LI polymer" battery, which means the battery only has a thin film exterior rather than a harder shell. The battery is glued into the iPhone case. That makes it difficult to access without puncturing the battery, Peters-Michaud said, and puncturing it can cause a thermal reaction.
Peters-Michaud gave a rundown of how workers at his company disassemble devices with LI batteries. Once most of the electronics are removed, the adhesive has to be taken out as well. Attempting to pry the battery out without removing the glue can result in damage to the battery.
So the device is taken to a "hot table" that's located in the disassembly area, which is heated to about 95 degrees. That melts the glue within about four minutes.
"We don't want to do it too high because we could have some other issues that come up," Peters-Michaud said.
Cascade's hot table can handle up to eight phones at a time, and it can also be used for tablet adhesive melting.
From there, workers at the processing firm use a small plastic prying tool supplied by iFixit to separate the melted glue from the battery, a step that allows for removal while keeping the battery intact.
With the battery removed, the worker applies tape to the battery so the contacts can't touch each other. This limits the possibility of an electrical discharge and reaction, such as a fire. The battery is then grouped with other batteries, packed and shipped to a battery processor for recycling. Shipping batteries requires a number of regulatory steps, including labeling in accordance with transportation guidelines and universal waste handling rules.
HOBI's Boswell noted the disassembly process can change by device, and subtle differences in product design can make a substantial difference.
"The unique nature of each product requires unique procedures to properly remove the battery, and safely remove the battery to avoid a thermal event," he said, adding that HOBI, which is based in Batavia, Ill. and runs additional operations in Dallas and Phoenix, modifies its removal procedures as new products enter the waste stream.
Fire response and prevention
The above steps are taken to safely dismantle LI battery devices, but even with these measures in place, fires still occur.
Peters-Michaud said Cascade tries to minimize the volume of batteries accumulating in any one location at a given point in time. The company also trains employees to keep hard-case LI batteries separate from the soft, polymer-case variety. Otherwise, when they're bundled together, the hard batteries can puncture the soft ones.
Boswell advised against using metal tools, as puncturing a LI battery with a metal tool not only damages it, but can cause a short inside the battery and spark a reaction. He also noted HOBI tries to minimize the presence of flammable materials on the workbench.
"At more risk to your facility is that quick event turning into a fire event," Boswell said. "That typically happens not because the battery burns but because there were papers or cardboard or other [flammable] things in the general vicinity where the work was being done. And you create a secondary fire from the actual battery event."
When there is a fire, employees at both Cascade and HOBI utilize tongs to handle batteries that are reacting. Lithium burns extremely hot, Boswell noted. The battery is thrust into a container of sand and taken outside the building. Cascade recently used this approach when an iPhone 6 LI polymer battery had a reaction after being punctured during handling.
Cascade handles about 100,000 batteries per year, and had just two battery reaction incidents during a recent year.
"But I think having a plan to contain and respond to those thermal events is really important from a safety measure," Peters-Michaud said.
Short circuits and OEM involvement
Other webinar speakers speakers articulated important points that can help e-scrap stakeholders manage the LI battery stream more safely and efficiently:
Kevin Leary of the U.S. Department of Transportation (DOT) described the regulations required to ship end-of-life LI batteries. The primary intent is to protect them from short circuits and damage, especially with LI polymer batteries. There are particular requirements for damaged, defective or recalled batteries as well, such as separating them from other batteries, labeling them and more.
"Once it's damaged, it has a higher than normal likelihood of causing a thermal event or going into thermal runaway," Leary said. He noted DOT runs a hotline for information on hazardous material regulations and transportation, including information on LI battery handling. The number is 1-800-HMR-4922.
George Kerchner of The Rechargeable Battery Association responded to the growing interest in refurbishing and reusing LI batteries. Kerchner said battery refurbishing and secondary use makes the association somewhat nervous, due to the complexities of battery chemistry and variety of battery types. The association has adopted a position statement on the issue.
"Our position is that the entity that's doing the reconditioning of the cells or batteries, it should be the original manufacturer of the cells or batteries, or the entity should have direct knowledge of the cell degradation characteristics and safety systems of the battery, and is authorized to recondition the cells or batteries by the original manufacturer," Kerchner said.
Finally, Chris Coady of The Recycling Partnership, which helps improve the curbside recycling system nationwide, noted there is crossover between the materials recovery facility operators and e-scrap operators with the LI battery issue, as E-Scrap News' sister publication Resource Recycling recently reported.
"Lithium batteries is a primary safety concern for these facilities," Coady said.
Photos courtesy of Cascasde Asset Management.
More stories about mobile devices