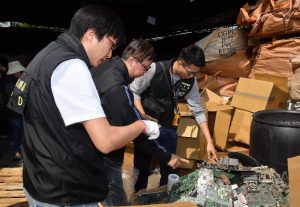 Authorities recently handed down several penalties for improper management of scrap electronics.
On March 6 and March 13, a court in Hong Kong, a semi-autonomous region of China, fined multiple unnamed defendants 106,000 Hong Kong dollars (about $13,500) for violations of waste disposal laws. In August 2017, staff from the Environmental Protection Department (EPD) discovered four recycling sites that were improperly storing and labeling printed circuit boards (PCBs). The PCBs totalled 230 metric tons.
Later, on March 20, the court fined a different unnamed defendant 45,000 Hong Kong dollars (about $5,700) for similar violations. In that case EPD agents found a recycling site with 600 flat-panel displays.
On March 22 and March 23, agents from multiple departments conducted surprise inspections at open recycling yards and found four sites with illegal collection, storage and handling of e-scrap. The 20 metric tons was mostly PCBs but also included lead-acid batteries and rechargeable batteries. EPD is still gathering evidence in that case in anticipation of prosecutions, according to a press release.


Photos from the March 22-23 surprise inspections.
More stories about Asia