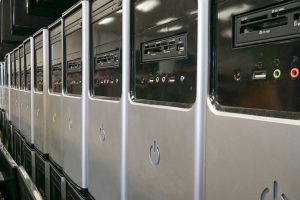 Computer Discounters Inc. has partnered with an Ireland-based reverse logistics and ITAD company to help both businesses bolster asset recovery operations within the U.S.
Computer Discounters Inc. (CDI), a holding company that includes a variety of asset recovery and recycling subsidiaries, announced a partnership with Wisetek Solutions, an ITAD company headquartered in Cork, Ireland.
CDI is headquartered in Hyattsville, Md.
"We made a deal that we would acquire the majority stake of their U.S. operation," Zack Boorstein, vice president of CDI, told E-Scrap News. The goal is to grow both businesses in the U.S.
The companies' pact was highlighted in a story in the Washington Post last week.
Through acquisitions in recent years, CDI has brought together a regional electronics recycling and refurb system consisting of various brands, including Data Killers, Capitol Asset, Turtle Wings and PC Retro.
CDI and its subsidiaries use hard drive destruction trucks to service a number of clients around the U.S. Its trucks are based in California, Maryland, Nebraska, Texas and more.
"They're strategically located in those areas because we want to be able to hit the entire United States within a 500-mile drive," Boorstein explained.
Wisetek, which operates locations in Bangkok, Dubai and Singapore in addition to the Ireland location, contacted CDI after receiving a global data destruction contract for a major corporation, Boorstein said. The companies met and began working toward the partnership.
Large multinational companies often want to work with one ITAD partner rather than having multiple vendors in different areas. The Wisetek-CDI partnership provides such customers with "a standardized global delivery of IT asset disposal and data destruction services," the Irish company stated last year.
CDI and its subsidiaries have mostly handled computers, laptops and other consumer electronics equipment. Wisetek, on the other hand, works more in the enterprise equipment category, with data centers, storage providers and manufacturers as clients.
With that comes servers, and other new IT equipment. The partnership gives CDI "an avenue to compete on enterprise opportunities," Boorstein explained. And Wisetek noted that the partnership "expands our services expertise from primarily managing data centre class products to now incorporating end user IT equipment including PCs, laptops and mobile devices."
More stories about refurbishment/reuse