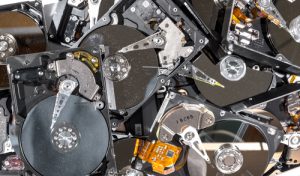 E-scrap software firm Makor Solutions is spreading the word on the ins and outs of offering data security services.
In a guide released last month, Makor offers a step-by-step approach to designing and running a data security program. It is the first in a series of IT asset disposition (ITAD) best practices guides the Minneapolis-based firm is planning to publish.
Makor offers its own e-scrap software system, known as Makor ERP, to a wide range of processors, resellers and ITAD firms.
Mark Chodos, Makor's CEO, told E-Scrap News the rise of large corporate data breaches has generated significant interest in protecting and eliminating confidential data through data security services. In addition, the European Union is set to roll out its General Data Protection Regulation (GDPR) in May, and that policy will likely have widespread effects for companies across the world that handle devices holding personal information.
The 12-page guide from Makor suggests companies begin by taking into account a series of considerations before implementing a data security program, including clients' reporting requirements, the volume of hard drives being handled and the amount of space available for storage.
"There's an inherent risk in offering a data security service and not being able to deliver it," Chodos explained. "And that's the key – if someone is considering doing this, they have to know they have to set up an environment where they have a process in place."
If a reliable system is put in place, however, Chodos said there are indeed financial benefits to be had, especially in a climate where recycling revenues are dwindling. "Data security services can be very lucrative … and no one wants pay for recycling," he said.
The guide goes on to detail the nuances of when and where to sort and service hard drives, offering a series of processing options, each with their own set of pros and cons. For instance, some facilities opt to remove hard drives at the initial sorting stage, while others tend to complete this step at testing and repair benches.
What's more, the guide also investigates the all-important question of whether to wipe or destroy drives and how best to capitalize on the potential revenue stream. Guide author Josh Feldman told E-Scrap News it's almost always in the best financial interest of a company to reuse devices as long as their partners are on board.
"It will ultimately depend on the appetite of the customer and the value that they could get in wiping and reusing those drives," Feldman said. "But in a lot of corporate cultures the risk would outweigh that potential benefit."
More stories about data security